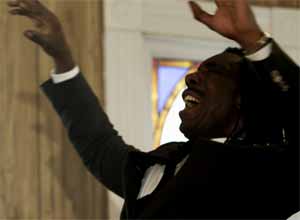 Boyd Tinsley, violinist and mandolin player for the Dave Matthews Band, will premiere his first film, "Faces in the Mirror," at 5 p.m. Thursday, Aug. 30, at the Moore Theatre. You can RSVP for the Seattle screening here. Or, if you can't attend the screening at the Moore, watch it live on Snag Films.
The film is about a man, Ben Fisher, who returns home to attend his father's funeral. The father had been neglectful, and Fisher avoided him for years out of anger and resentment. But on the day of the funeral, Fisher finds himself in a dreamlike odyssey that leads to enlightenment and forgiveness.
The music was produced by Tinsley and performed by other members of the Dave Matthews Band, including Matthews, Tinsley, Stefan Lessard and Tim Reynolds, as well as Seattle artists Shawn Smith, Maktub and The Silent Comedy.
Directed by Aaron Farrington and produced by Ryan Gall (with help from Tinsley), the film includes material written and voiced by former U.S. poet laureate Rita Dove.
Read an interview with Tinsley at Next Movie.