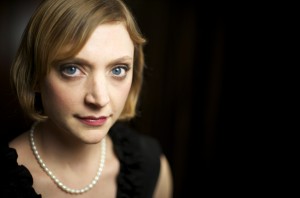 By MIKEL TOOMBS
Now, even though Dave Matthews is (kinda) my Seattle neighbor, I'm not journeying all the way to the Gorge to see him perform this weekend. However, I'm quite willing to ferry over Friday to Bainbridge Island to catch Eilen Jewell at the Treehouse Cafe.
Just as Adele fave Wanda Jackson (who, happy day, plays Bumbershoot on Saturday) is the Queen of Rockabilly, Jewell is the "Queen of the Minor Key."
OK, I've rhapsodized about Ms. Jewell here before, but I can add that the folk-blues-infused Jewell is aided by guitarist Jerry Miller (no, not OUR Jerry Miller, the legendary Moby Grape co-founder, but pretty impressive in his own right) and has a perhaps unexpected penchant for British Invasion rock.
Get additional details about the show at the Treehouse Cafe website.
(EDITOR'S NOTE: Mikel Toombs is a frequent contributor to GeneStout.com. Read a previous Toombs story on Eilen Jewell here.)