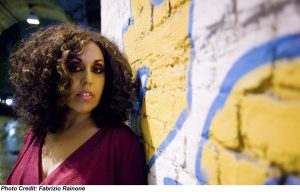 By MIKEL TOOMBS
"Some people think little girls should be seen 'n' not heard, but I say," Poly Styrene says at the start of X-Ray Spex' Brit-punk classic 1977 single: "Oh Bondage! Up Yours!" (It's not about sex, but there's sax, played by Lora Logic.)
The pre-riot grrrl, born Marian Joan Elliott-Said to a British mother and a soon-to-be absentee Somali father, can be heard on a new album, "Generation Indigo," out today.
Sadly, the singular singer-songwriter will no longer be seen. Poly Styrene, whose work with X-Ray Spex, in particular their one glorious album, "Germ Free Adolescents," was so full of life, died yesterday, April 25, after a battle with breast cancer. She was 53.
Happily, on "Generation Indigo" Poly somehow retained the same combination of childlike wonder and keen social observation that made X-Ray Spex' "serious 'n' yet not serious" songs so delightful, whether she's confronting racism ("Colour Blind") or, as she had on "Adolescents," modern technology ("Virtual Boyfriend").
Poly Styrene discussed the new album, track by track, here.
Here's the video of "Oh Bondage, Up Yours."
(EDITOR'S NOTE: Mikel Toombs is a frequent contributor to GeneStout.com. Read his recent post on singer-songwriter Sam Phillips here.)