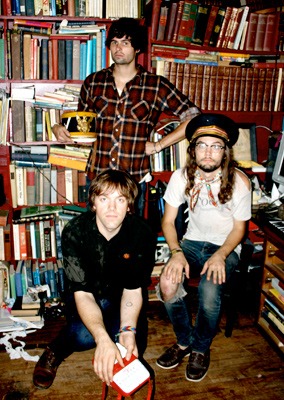 The 2011 Noise for the Needy festival was announced today by Campaign Shoutin' Communications.
Among the more than 80 artists performing June 7-12 at Seattle venues are Brendan Perry (ex-Dead Can Dance), Detroit Cobras, Akimbo, Loch Lomond, Fresh Espresso and The Pharmacy.
Proceeds will benefit the Real Change Empowerment Project, producer of Seattle's Real Change street newspaper.
Shows are scheduled at venues throughout Seattle, from Ballard to Columbia City.
Belltown's Underground Events Center hosts a Noise for the Needy weekend, including a dance night with Soft Metals, Ononos and eight other artists June 10, and a metal night with Akimbo, Wildildlife and six additional bands June 11.
On June 12, the Vera Project stages an all-ages NFTN show with Ramona Falls (Brent Knopf of Menomena) and Mt. St. Helens Vietnam Band.
Additional artists at this year's festival include Girl in a Coma, Robin Guthrie (ex-Cocteau Twins), Drew Grow & the Pastors' Wives, The Foghorns, Ravenna Woods, Big Sur, Hobosexual, Kelli Schaefer, the Horde and the Harem, Stickers, Redwood Plan and Nalgas Bukkake (featuring members of Master Musicians of Bukkake with Skerik).
For a full list of Noise for the Needy 2011 shows, click here. Tickets for most Noise for the Needy shows go on sale the week of May 2 on the NFTN Web site, which has been completely revamped by My Young of the band Jupe Jupe. The festival has also launched an online merchandise store here.
Real Change is a reader-supported social enterprise that offers news, social justice advocacy and employment opportunities for Seattle's low-income and homeless people.
Noise for the Needy is beloved for its grassroots energy and charity focus. The event is produced and staffed by more than 100 dedicated volunteers.
Since 2004, Noise for the Needy in Seattle has grown from a single benefit show with four local bands to an annual, multi-day festival of concerts hosting scores of performers.
To date, the event has raised more than $100,000 for local charities including Teen Feed, Urban Rest Stop, Transitional Resources, Roots Youth Shelter and others.
Festival alumni include Talib Kweli, The Black Angels, the Maldives, Okkervil River, the Handsome Family, Matt & Kim, Album Leaf, CSS, Visqueen and Jesse Sykes and the Sweet Hereafter. Noise for the Needy is a 501(c)3 nonprofit organization