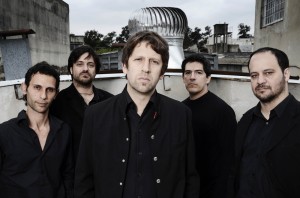 By MIKEL TOOMBS
Seattleites know that there's much more to Argentina than the new pope.
Notably, the Seattle Symphony Orchestra rang out 2012 with a program that paired Beethoven's Ninth with "The Four Seasons of Buenos Aires," written in the years 1965-70 by tango legend Astor Piazzolla. (The dancers were from Cirque de Soleil, another area favorite.)
Conversely, "grounge" (presumably, "grunge" in the regional dialect, rioplatense), writes Edgardo Gonzales of the 34 Puñaladas (34 Blows or Stabs), "is very popular in Buenos Aires."
The Bs. As. (Buenos Aires) quintet (four guitarists and a singer), which appears April 6 at the Royal Room in Seattle's Columbia City neighborhood, draws from tango's dark past. (On a related note, don't forget the March 21 Neumos performance by Bajofondo, the Rioplatense tango/EDM supergroup, originally Bajofondo Tango Club, that features Gustavo Santaolalla, who won Oscars for his scores to "Brokeback Mountain" and "Babel.")
The band "was fascinated for the histories about drugs, prostitution, murders that the tangos composed in the ´20s and ´30s" told about, 34 Puñaladas guitarist and songwriter Gonzalez explained in an email.
"In this moment arrived to Bs. As. a lot of immigrants from Europe, fleeing the misery generated for the industrial revolution first, and later for the war. The condition of life was marginal. This social context was narrated in these tangos.
"We put the focus in these songs in our first stage, as interpreters. The tenor sound of the guitars is perfect to accompany (these) lyrics.
"A journalist who listen(ed to) a concert in Italy, some years ago, said that (our music) is the perfect soundtrack for a Quentin Tarantino movie filmed in Buenos Aires."
"The most important challenge" for the evolving group, which began in 1998, "was the transport of the genre from the past, to the contemporary world. We think that in our stage as interpreters, in parallel we learned the secrets of the genre and we (imparted) to it our cultural background," Gonalez wrote.
"Thereby, we consolidate our own language. When we began to compose we re-found(ed) the group.
"It was very satisfactory to verify the success of our first CD of this new stage, called 'Bombay Bs. As.' (2009). The press, the public and a lot of musicians coincided to say that it was one of the most important tango works of the last years.
"In the atmosphere of the music you can feel the pulse of the current city. Several compositions included in the CD were interpreted by other groups."
(EDITOR'S NOTE: Mikel Toombs is a frequent contributor to GeneStout.com. Read his recent story on George Jones' final show here.)