By MIKEL TOOMBS
Make your travel plans now.
On Nov. 22 George Jones, 81, will perform his final concert, at Nashville's Bridgestone Arena.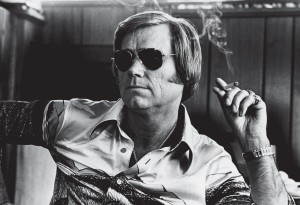 Jones is known, affectionately, as the Possum, and not because he's been written off for dead due to his previous alcohol and cocaine abuse (for missing concert dates, he was dubbed "No Show Jones"), and, more reverently, the "Greatest Living Country Singer."
His monumentally heartbreaking 1980 single "He Stopped Loving Her Today," written by Claude "Curly" Putman Jr. and Bobby Braddock, was ranked by Rolling Stone as the 275th "Greatest Song" of all time.
The venerable publication may be off by, oh, 274 or so positions but, at first, even the singer himself discounted the song, which is similar in theme to an earlier hit, "(I'll Get Over You) When the Grass Grows Over Me."
"I carried that song almost a year before I recorded it," Jones told me in a 2000 interview. He thought writers Putman and Braddock "ought to write another verse about her coming back. They didn't have her coming back. And, you know, that's the part where I do the recitation.
"So I told them they needed to write that, and then I would cut the song. Well, within a couple of months they got that part to me and that completed the song, to my mind. And I went in and cut it then.
"And I still told Billy Sherrill," Jones continued, referring to his noted producer, "that it was too morbid, it was too sad and the people weren't going to buy it. And during that particular period that type of song wasn't selling, and they were starting to play happy songs more.
"But anyhow, it just happened to be that strong a song, I guess. And it turned out to be the biggest thing I ever had. I wouldn't have bet a dime on it being a hit at the time. But I'm sure glad I was wrong."
The latest guests announced for Jones' grand finale are Billy Ray Cyrus, Don McLean and Cyndi Lauper (!).
They join the previously announced country music Who's Who of (you can skip to the next paragraph for the punch line) Garth Brooks, Kid Rock, Kenny Rogers, Randy Travis, Alan Jackson, Dierks Bentley, T. Graham Brown (again, you may spring forward), Mark Chesnutt, Charlie Daniels, Joe Diffie, Jamey Johnson, Tracy Lawrence, Patty Loveless, Shelby Lynne, Kathy Mattea, Montgomery Gentry, Sam Moore, Lorrie Morgan, The Oak Ridge Boys, Pam Tillis, Randy Travis, Tanya Tucker, Josh Turner, Gene Watson, Brenda Lee, John Conlee, Lee Greenwood, Eddy Raven, The Roys, Janie Fricke, T.G. Sheppard, Dailey & Vincent, Gary Morris, Jessi Colter, Bobby Bare, Jim Ed Brown, Little Jimmy Dickens, Stonewall Jackson , Clay Walker, Aaron Tippin, Collin Raye, Larry Gatlin, Crystal Gayle, The Kentucky Headhunters, Jett Williams, Jeannie Pruitt, Lisa Matassa, The Whites, Ricky Skaggs, Mandy Barnett, Mark Collie, Ronnie McDowell, Baillie & the Boys and Daryle Singletary.
With all that talent on the stage, one imagines that the Possum won't even have to appear at all. "No Show Jones." What a concept.
Read more about George Jones and his final concert here.
(EDITOR'S NOTE: Mikel Toombs is a frequent contributor to GeneStout.com. Read his recent story on Molly Ringwald here.)