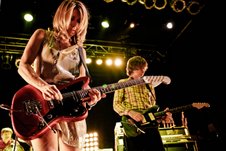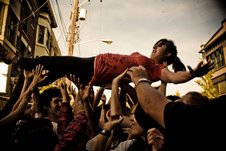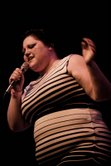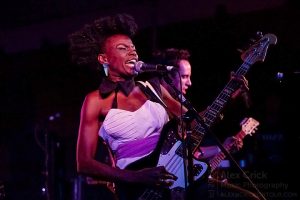 Here's a guest post by Seattle music blogger Jen Stippich, who attended both days of the 2009 Capitol Hill Block Party:
"The Capitol Hill nightclub district was again ground zero for one of the most entertaining and successful summer music festivals in Seattle.
"More than 50 bands and artists packed multiple stages at the Capitol Hill Block Party Friday and Saturday.
"Friday's musical highlights included local acts Sgt. Major and the Dutchess and the Duke, who opened the festival at Neumos and the Main Stage, respectively. Neumos' stage also hosted Band of Skulls and Earth and closed with a return of the War Room's hot dance night, "Sing Sing."
"The Main stage rocked out with Black Lips, Built to Spill (playing a fan-chosen set list) and Jesus Lizard, in their epic return. The all-ages Vera Project stage showcased U.K.'s Micachu, Seattle's Past Lives and L.A.'s Mica Miko.
"On Saturday Neumos stage featured The Maldives, San Francisco's Girls, local heavies Akimbo and a showcase of artists from local hip-hop label Sportn' Life, among them Fatal Lucciauno and Spaceman.
"The Main stage featured local alt-country band the Moondoggies, The Pains of Being Pure of Heart, Portland's The Thermals, local gone-international sensation Gossip and punk icons Sonic Youth, who played a searing set. The Vera stage also offered a bevy of great choices, including local bands the Hotels, New Faces and Edward Sharpe and the Magnetic Zeroes. The final sets featured London's Noisettes (who overcame a restless and impatient crowd and a wardrobe malfunction) and the much-anticipated Japandroids.
"Swelling in attendance (estimated at more than 15,000 over the two days) and featuring bigger headliners, this last of the independent festivals really excelled. There was a noticeable feel-good party atmosphere and dearth of any major incidents.
"Many of the area's local businesses participated with their own shows or sidewalk sales, and there were a bounty local craft booths, food vendors and community-action groups lining the streets. This year's new festival layout, which moved the main stage to the end of Pine Street and Broadway, as well as a few other changes reduced some of the bottlenecks that plagued last year's event. Also helping was One Reel's production, making for a smooth-running event.
"Adding to the fun were the other activities that sprung up at Block Party, including the on-site KEXP/ Caffe Vita shows held in Caffe Vita's green-bean warehouse, providing a wonderfully intimate area for many of the performers. At midnight, the space became the location for the One Pot community dinner with performances by Blue Scholars and Head Like a Kite.
"The Cha Cha also had performers in its basement space, and many festivalgoers cited Champagne Champagne as a "festival" favorite. Chop Suey, the Comet, Havana and Sole Repair got in the spirit by hosting bands and creating additional spaces for festival crowds during and after the official events were closed — in true block party fashion."
— Jen Stippich