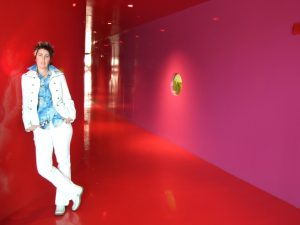 Endorsed by Gibson Guitars, Seattle singer-songwriter Camille Bloom may be an international star in the making. In fact, over the last six years, she has toured the United States, Canada and Europe, spreading her gospel of edgy acoustic rock and riveting balladry.
Her fourth release, "Never Out of Time," is due Nov. 8, with a release party (and homecoming show at the end of her latest Northwest tour) Nov. 12 at the Columbia City Theater. Backed by her band, The Recovery, Bloom shares the bill with Amber Darland and J Minus. Tickets are $10 in advance for the 9 p.m. show. Get the details here.
Produced by Seattle's Martin Feveyear, who has worked with R.E.M., The Presidents of the United States of America, Rosie Thomas and Brandi Carlile, "Never Out of Time" features 11 songs laden with human drama. In "Lake Chelan," Bloom sings about a self-destructive man running from a troubled past who discovers that his pain has followed him to his new home in a Washington resort town:
"(He) wanted to start a new life
"And got himself a new job in Lake Chelan
"But he brought all his bad memories here
"Tried drowning 'em in smoke and beer."
Other tales of love, struggle, passion, inspiration and hope are contained in such songs as "Just Because I'm a Friend," "Top of My Game," "All of These Stains" and "I Know You Know I Know." At the end, the album takes a fanciful turn with the hip-hop ditty, "Teeny Car," a bonus track that will make you smile. Her powerful voice is so addictive that you'll keep coming back for more.
Among the musicians featured on the album are Danny Godinez (electric guitar) and Jessica Kitzman (cello).
Bloom is a former English teacher who operates a rock 'n' roll summer camp. She has also given talks at schools about songwriting and the music business, as well as sexual orientation and domestic violence. Her music has been licensed on MTV, E! and Oxygen. Visit her website here.
— Gene Stout