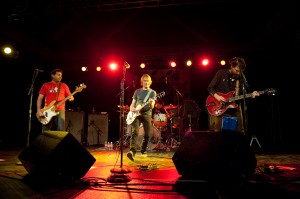 For a true Mudhoney fan, what could be more tantalizing than an exclusive show at a Seattle nightclub?
The veteran grunge band closed the inaugural Seattle Interactive Conference – a cutting-edge forum on technology, creativity and emerging trends affecting our personal and professional lives — with a tight, polished and very intimate set Nov. 3 at Showbox SoDo.
Several hundred concertgoers, most of them conference badge-holders, rocked to the band's 1988 hit, "Touch Me I'm Sick," and other grunge classics during a 16-song show. Singer-guitarist Mark Arm commanded the stage with a fiery energy that showed the band hasn't lost its edge after more than two decades on the local scene.
But it was amusing to see a portion of the crowd gathered around high-top tables with tablecloths and candles during the band's performance. The scene resembled a wedding party or corporate event. In its heyday, the band usually played to frenzied fans in beer-soaked taverns.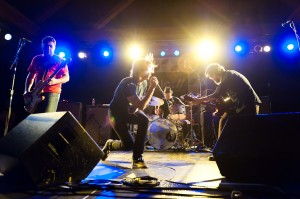 Arm and his band mates (guitarist Steve Turner, bassist Guy Maddison and drummer Dan Peters, an alumnus of numerous great Seattle bands) barreled through an explosive, fast-paced set featuring "The Money Will Roll Right In," "The Lucky Ones," "Sweet Young Thing (Ain't Sweet No More," "Next Time I Get Next to You" and "Tales of Terror."
Mudhoney, which heads overseas in December for a tour of Australia, wasn't the only local band to play during SIC. The Presidents of the United States of America performed at the event's opening party Nov. 1 at Showbox SoDo, followed by Shabazz Palaces Nov. 2 at Showbox at the Market. The opening party also featured a "Battle of the Geek Bands," a contest won by Kirby Krackle. Read more about it here.
Also featured during the two-day conference Nov. 2-3 was Seattle rapper Sir Mix-a-Lot, who along with Nick Harmer of Death Cab for Cutie and Tim Bierman of Pearl Jam's Ten Club, was featured at a panel discussion on digital music Nov. 3 at the Conference Center at the Washington State Convention Center, headquarters for the conference.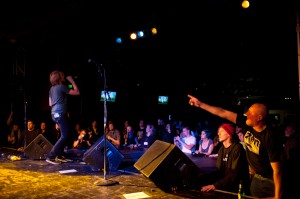 Among the speakers and "thought leaders" were Jeff Barr of Amazon Web Services, who spoke about cloud computing; Shayan Zadeh of Zoosk, whose talk was titled "Social at Heart: How Zoosk Made Dating Fun Again"; Vanessa Fox, a search optimization (SEO) expert known for her groundbreaking work on Google Webmaster Central; Mark Donovan, who talked about the rapid evolution of smart phones ("The Gadget That Ate Everything"); and Esmee Williams of Seattle-based Allrecipes.com.
Local technology journalists Todd Bishop and John Cook, who left the Puget Sound Business Journal to start online media company Geekwire, were also featured on conference panels.
Other conference topics included social websites, digital media, SEO, consumer websites, Facebook, mobile apps, Yelp and digital music.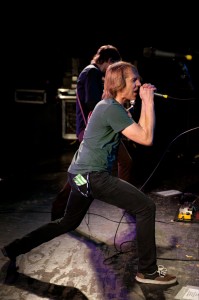 Among the more entertaining programs was a screening and discussion of "Sonicsgate," a film about the bitter loss of the Seattle SuperSonics to Oklahoma City and the many individuals and developments that led to the team's departure.
Because of its importance as an information and technology center, Seattle was a natural destination for the first Seattle Interactive Conference, attracting an estimated 3,500 attendees.
"For years, so many of us based in Seattle were seeing each other on the same planes heading from Seattle to attend major events in places like New York, Austin and San Francisco," said SIC curator Brian Rauschenbach, "so we figured, why not stage a great conference right here in Seattle?
"The time for an event like SIC is right, as it's no secret that the Seattle area is home to many of the world's most respected technology companies, along with a bevy of online startups and entrepreneurs who are having a profound impact on the national and global technology scene."
For more information about SIC, visit the official website.
The photos of Mudhoney accompanying this story were taken by Seattle photographer Jim Bennett. Read Bennett's report here on Mudhoney's show with Pearl Jam last September in Vancouver, B.C.