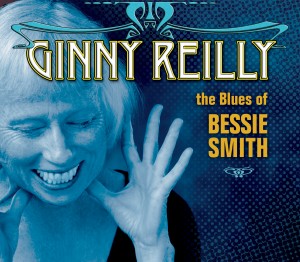 By GENE STOUT
In the '70s and '80s, singer-songwriter Ginny Reilly was one half of the popular acoustic duo Reilly and Maloney, which divided its time between Seattle and the San Francisco Bay Area.
Known for clear harmonies and prolific songwriting, the duo co-founded by Reilly and Dave Maloney drew many fans to local folk venues and even toured with Tom Paxton and Judy Collins. After seven albums, the duo broke up in the late '80s as Seattle was setting the stage for a grunge revolution. But the duo began performing again in the early 2000s after starting solo careers.
Reilly's latest album is "Ginny Reilly: The Blues of Bessie Smith," a superb 11-song collection paying tribute to a blues legend who began her career as a jazz singer. "What draws a singer to these songs?" Reilly writes in the liner notes. "There is strength and humor in the face of disappointment and oppression. Above all, there is power — the 'force' was with Bessie, and when I sing her songs, it's with me too."
Co-produced by Grammy-winning Northwest singer-songwriter Eric Tingstad, Reilly lends her high, clear vocals to Smith's signature songs, adding sweetness and modern reflection to hardscrabble themes of loneliness and betrayal. In addition to Smith's own compositions, there are classic tunes by Eddie Green ("A Good Man Is Hard to Find") and Blind Willie McTell ("Dying Gambler's Blues").
Opening with the classic "Need a Little Sugar in My Bowl," the CD is a delightful collection of vintage blues delivered with tasteful arrangements and Reilly's trademark delicacy. The ragtime-era "You've Been a Good Old Wagon" is a wonderful send-off to a man who's outlived his usefulness. On "Send Me to the 'Lectric Chair," listeners may chuckle when Reilly sweetly sings, "I done cut my good man's throat," pleading with a judge to send her to "the devil down below."
Other standout tracks on this tribute to the singer dubbed "Empress of the Blues" (she died of injuries from a car accident along U.S. Route 61 in 1937) include "Ain't Nobody's Business" and "Oh Daddy Blues."
Reilly is expertly backed by Tingstad (nylon-string guitar), Orville Johnson (Dobro, guitar), Eric Robert (keyboard) and Tom Moran (mandolin).
Read more about Reilly here. And catch up with the activities of Reilly and Maloney on the duo's official website.