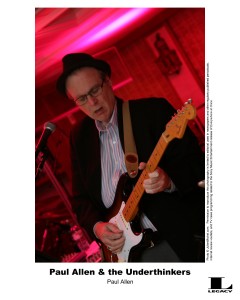 By GENE STOUT
Seattle billionaire Paul Allen (technologist, philanthropist and Microsoft co-founder) has good reason to celebrate his new CD, "Everywhere at Once," with his blues-rock group the Underthinkers.
The recording, due in stores Tuesday, Aug. 6, features an impressive roster of guest musicians — among them, Ann and Nancy Wilson of Heart, Joe Walsh, Chrissie Hynde, Derek Trucks, David Hidalgo of Los Lobos, and Ivan Neville of the Neville Brothers. The new CD is also Allen and the Underthinker's debut on Sony's Legacy Recordings label (which handles much of Jimi Hendrix's catalog of music). All proceeds will go to educational programs at the Experience Music Project.
Even more impressive, even surprising, is how enjoyable this 13-song collection of music is from start to finish. It totally rocks, with plenty of solid musical contributions from Allen's collaborators — and especially Allen himself. (Check out the heavy guitar interplay between Allen and Walsh on the gritty "Six Strings From Hell.")
Inspired by Hendrix as a teen, Allen began playing guitar at 16. "I'm still moved by the power of live music," Allen wrote in his memoir, "Idea Man." "I seek it out every chance I get. . . . For someone like me, who tilts toward the analytical, jamming taps into my creative, intuitive, more emotional side."
The album opens powerfully with "Straw Into Gold," featuring the Wilsons on vocals and Allen on electric guitar. Walsh is featured on vocals and slide guitar on "Six Strings from Hell," and Trucks is highlighted on guitar solos on "Inside Out" and "Healing Hands." Hynde's unmistakably raucous lead vocal is featured on "Rodeo."
Allen is the sole songwriter of "Inside Out," but collaborated with Doyle Bramhall II (the album's producer, along with Justin Stanley), Ty Baillie or members of the Underthinkers on the other songs. And Allen is featured on guitar solos on "Down Low" and "Big Blue Raindrops." Hidalgo may be deserving of MVP status, playing guitar on all but two of the album's tracks.
Listeners got a preview of the album last year, when the song "Devine" (with vocals by Amy Keys) was featured in the movie "Magic Mike," starring Channing Tatum and Matthew McConaughey.