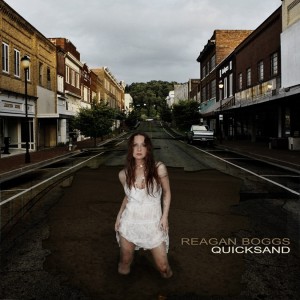 By MIKEL TOOMBS
Same trailer, different park?
Reagan Boggs seems to have a life-on-the-edge connection with Kacey Musgraves, who just won (deserved) Grammys for her debut album, "Same Trailer, Different Park," and her incisive song "Merry Go Round."
True, Musgraves has the lighter touch: "If I can't bring you to my house," she sings of going mobile, "I'll bring my house to you," recalling fellow Texan Miranda Lambert, albeit without the gunplay.

And while Boggs has only the occasional reference to living singlewide, Appalachia's own sings movingly of those who are (yes) bogged down in life's pernicious "Quicksand," not incidentally the title of her new (third) album.
This indie release (on her own Reckless Bess Records, out this week) is almost an embarrassment of riches about poor souls. It's composed of 12 fine Boggs-penned songs, plus an incisive (yes, again), heart-rending version of Eddie Vedder's "Better Man."
Read more about Boggs on her official website here.
Watch a video of Boggs performing "When It Mattered" on WDVX's Blue Plate Special on Jan. 23, 2014.
(EDITOR'S NOTE: Mikel Toombs is a frequent contributor to GeneStout.com. Read his story on Kacey Musgraves here.)