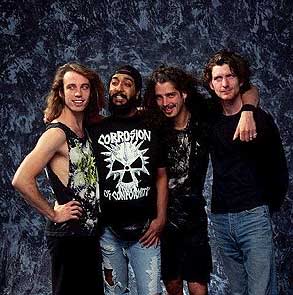 By GENE STOUT
On Tuesday, Nov. 13, Soundgarden releases its first studio album in 17 years. For longtime fans, it's a cause for celebration.
With "King Animal," the legendary Seattle band formed in the turbulent grunge era picks up where it left off in the late '90s, when the group disbanded and singer, guitarist and bandleader Chris Cornell began a solo career before forming Audioslave.
Fans were skeptical when rumors surfaced in early 2010 about a possible reunion, but tickets sold out within 15 minutes after a show was announced at Showbox at the Market. It didn't matter that the band was billed as Nudedragons (an anagram for Soundgarden). Everybody knew who it was. (Read a review of the show here.)
The new album was recorded at Seattle's Studio X with co-producer Adam Kasper (who has produced recordings for Foo Fighters, Nirvana, Pearl Jam) and mixed by Joe Barresi (Weezer, The Melvins, Queens of the Stone Age).
The album reflects the maturity of a band – singer-guitarist Cornell, lead guitarist Kim Thayil, bassist Ben Shepherd and drummer Matt Cameron — whose members are now in their 40s, but whose passion for rock 'n' roll is still evident. Indeed, Cornell's four-octave vocals are as powerful as ever. And Thayil's guitar still bristles with energy. The album should be well-received by fans who have waited 17 years for new material from the Grammy-winning band, but never thought it would happen.
The appropriately titled "Been Gone Too Long," the album's first single was released in September. "Blood on the Valley Floor" is trademark Soundgarden – heavy guitars and a dark, brooding sensibility. "Non-State Actor" is a cynical tune about politics (based on themes provided by Thayil), while "Bones of Birds" is a foreboding song about parenthood.
"By Crooked Steps" begins like a military march, but is a great showcase for Thayil's powerful guitar playing. "Taree," a song of the wilderness, evokes the Northwest gloom that has inspired Cornell to create so many dark, somber tunes. The title comes from a beach on Bainbridge Island where Shepherd lives.
The most tuneful song is the semi-acoustic "Halfway There." "Rowing," on the other hand, is a riff-laden, dirge-like song that sounds as though it was written for a chain gang.
Two Seattle shows have been announced for Feb. 7 and 8 at the Paramount Theatre; tickets go on sale at 10 a.m. Nov. 17 at Ticketmaster.
On Monday, Nov. 12, a listening party for the new album begins at 7 p.m. at Feedback Lounge in West Seattle. Bleed Together, all-woman Soundgarden tribute band, performs live. You can also bid on a Soundgarden-autographed guitar and watch Soundgarden videos on the big screen. You must be at least 21. Get the details here.
I recently joined Josh Kerns, host of KIRO Radio's "Seattle Sounds" show, along with Chris Kornelis of Seattle Weekly, to talk about Soundgarden. Listen to the interview here and read the text on the show's home page.
And read a Noisey/Music by Vice interview with Thayil here.