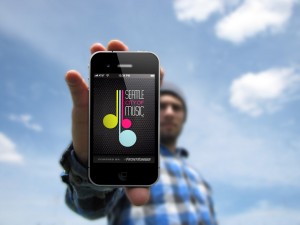 By GENE STOUT
As part of a new partnership between the Seattle Metropolitan Chamber of Commerce and Seattle's City of Music Initiative — announced by Seattle Mayor Mike McGinn and Councilmember Nick Licata Nov. 14 at the Triple Door — a handy new smart phone app has been created to connect music fans to local music playlists, upcoming shows and documentary videos on the Northwest music scene.
Content is provided by such local outlets as KEXP-FM, 107.7 The End, PlayNetwork, Jet City Stream, The Seattle Times, Seattle Weekly, SSG Music, Rainy Dawg Radio, Sound on the Sound, the Stranger and Sportn' Life Records.
Produced by local app developer FrontRunner, the nifty new app expands on a "music discovery tool" launched last winter as part of SeaTac Airport's Experience the City of Music Initiative.
By the way, local music is a $2.2 billion industry that provides more than 20,000 jobs in Seattle and King County.
"Music is a homegrown industry that we need to celebrate and support," says Bob Donegan, chair of the Seattle Metropolitan Chamber of Commerce and president of Ivar's. "It's sort of like the region's secret sauce. Directly, music creates jobs. Indirectly, it's essential in creating a vibrant and varied arts and cultural scene that helps attract and retain people. And music has increasingly become part of the business model of some of our largest companies."
Learn more about the new app here. And read about the Seattle City of Music program here.