By MIKEL TOOMBS
Last night the Crocodile Café turned into Seattle's French Quarter, with plenty of conversations en français and a soupçon of striped shirts and berets, as Franco-British (or is it Anglo-French?) singer-actress (or actress-singer?) Charlotte Gainsbourg performed to a packed house.
In the first U.S. date of her first true tour, the soft-spoken Gainsbourg charmed the crowd with a 20-song set (four and a half were in French), concentrating on her rather remarkable current album, "IRM," where she turned a near-tragedy into beautiful music.
Now, this "IRM" isn't the last half of "SQUIRM." That, capitals and all, might have summed up her debut recording (at age 12), "Lemon Incest," which was a duet with her father, Serge Gainsbourg. To be sure, Papa was a strange homme, but also a musical iconoclast who acquired a great deal of hipster cred, especially after his death in 1991; he was sort of the Beck Hansen of his day. His legacy is kept alive by Charlotte's mother, British actress-singer Jane Birkin.
"IRM" is actually French for MRI, the medical (now musical) instrument Charlotte Gainsbourg had plenty of experience with after she nearly died of a cerebral hemorrhage a couple years back. That ordeal inspired the creation of her third album (after the '86 Serge-directed "Charlotte For Ever" and the '06 "5:55," with music by the fellow Parisians in Air), which was written and produced by the aforementioned Beck.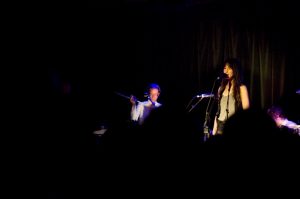 The ambitious yet engaging "IRM" recalls her film work with the (yes) engagingly ambitious director Michel Gondry (she starred in his "The Science of Sleep"), if perhaps not with the less-cuddly Lars von Trier ("Antichrist," for which she won the acting prize at last year's Cannes).
Gainsbourg was backed Wednesday by a Beck-selected five-piece band, led by his keyboardist and musical director Brian LeBarton. (I was afraid it was going to be two turntables and a microphone.) The strong group proved invaluable for the singer, whose vocals were the very definition of "understated," at least when she wasn't channeling Dad's manly style on one of his songs or getting her Piaf on with a raucous version of "Le Chat du Café des Artistes."
Opening with the title song of "IRM," Gainsbourg enhanced the album's MRI-inspired soundscape with her own percussive efforts (at times she also added minimal keyboards). Beck's near-impressionistic lyrics, highlighted to best effect on a layered version of "La Collectionneuse" (that was the half-French song), showcased the singer better than her other, wordier offerings. The notable exception: Bob Dylan's "Just Like a Woman," given a fragile, child-woman arrangement that wouldn't have been out of place on the third Velvet Underground LP (that was "The Velvet Underground").
Opening with a set of Brazilian-tinged electronica, L.A.'s AM was OK, although he and his two bandmates might consider changing their name to ZZZ. Also from Los Angeles, Jogger followed by at least quickening the pace to a, well, jog, but the duo's nervous energy didn't carry over into the music.
(Mikel Toombs writes a weekly column for the San Diego News Network.)