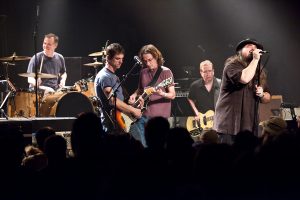 Seattle singer and musician Shawn Smith was honorary "Stardog Champion" during a garage-rock marathon Wednesday night at Showbox at the Market.
Taking the helm of a reunited Mother Love Bone, Smith open the set with "Stardog Champion," the signature song of a Seattle band that held tremendous promise until the tragic death of frontman Andy Wood in 1990 (you can read about it here). The set featured songs from the band's self-titled debut album.
The flamboyant Wood was the embodiment of "Stardog" in that brief chapter of the Seattle music scene, but Smith took on Wood's role with uncanny realism. When you closed your eyes, it was just plain eerie.
The concert was billed as an evening with "Brad and Friends," and the friends included such local luminaries as Pete Droge, Regan Hagar and Pearl Jam's Stone Gossard.
Brad was the headliner, playing songs from the band's upcoming album, "Best Friends?" as well as a number of tunes from the Brad arsenal. It was the longest set of the show. The lineup (pictured above) included Smith, along with original members Hagar, Gossard, Mike Berg and Keith Lowe. Gossard's guitar work helped anchor an extraordinary set.
Smith was clearly MVP for the evening, which included sets from Pigeonhed, Satchel, Malfunkshun and Hank Khoir, Gossard's (mostly) Hank Williams tribute band. Hank Khoir performed the Talking Heads' "Psycho Killer" and was joined by such guests as Droge and Dejha Colantuono (the latter singing a soulful "Que Sera Sera"). Adding a bit of color and mirth between sets was singer and performance artist Queen Shmooquan.
Smith's versatility was remarkable as he floated from soul to hard rock as frontman during multiple sets. He energized an already pumped-up crowd celebrating the era of Seattle rock that preceded the explosive success of Pearl Jam and Nirvana.
If you attended the concert, what did you think?
Read more about Brad here.
Visit Shawn Smith's MySpace.com page here.
Watch a video of Mother Love Bone performing "Stardog Champion" by following this link.