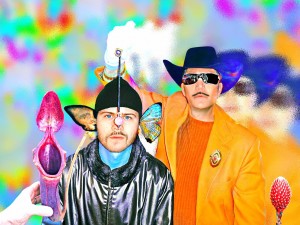 "Android Amaker," a unique, collaborative, music and arts project led by Seattle vocalist and co-creator Brent Amaker, will be performed Friday, Nov. 7, at Neumos.
The project emcompasses a sci-fi electronic concept album of the same name inspired by futurist Raymond Kurzweil's theory of the Singularity, a point when progress becomes so rapid that humans won't be able to comprehend it, leading to a new form of life fusing technology and humans. Read more about the Singularity on Wikipedia.
"This is a one-of-a kind event, only happening once, and it's gonna be epic," says vocalist and co-creator Brent Amaker, known as the leader of the theatrical Seattle alt-country band Brent Amaker and the Rodeo.
"Android Amaker started more than a year ago as nothing more than a couple of friends talking about technology," Amaker says.
"Since that time, multiple talented contributors have added their perspectives, and the project has grown into something much more than we expected. This is going to be a very special evening. I'm thankful to be part of it."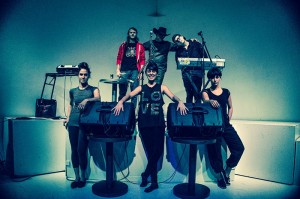 The show makes up the third component of the project, joining the limited edition LP (out now in clear vinyl) and the music video for "Transported," featuring Amaker and his cohort Vox Mod on a trans-dimensional journey through the outlaw badlands of the future. Like the video, the live show will feature lasers, intense choreography and unhinged visuals.
Rounding out the live band is P Smoov, a member of the project from the very beginning and producer of the album, and Trent Moorman, Seattle's top journeyman power drummer. Chris Jones of Like A Rockstar designed the costumes for the project and will be featured as mystery member of the band.
Smoov and Moorman are also featured in Fresh Espresso, one of the evening's opening acts. Tacoma's The Fame Riot will join them to kick off the night.
Beyond the live show the project is a collaboration that includes many like-minded artists giving their own unique takes on their visions of the future, including photographer Frank Correa, choreographer Molly Sides and technology expert Matt Hickey, among others.
Members of the audience also receive special-edition Android Amaker coffee created by Caffe Vita when they purchase the LP. "It's good coffee and it will keep you alert as the singularity approaches," says Amaker.

Raymond Kurzweil, the inspiration for the project, writes that we are approaching a time when we may all indeed live forever. Still, we'll only live once, and the show — the singularity itself — will only happen once.
Read more about the unique project and watch a video here. And read Kelly O's interview with Amaker in The Stranger.