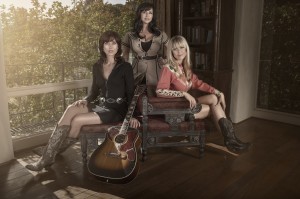 By GENE STOUT
Calico could be catnip for alt-country fans.
The Southern California trio featuring Kirsten Proffit, Manda Mosher and Aubrey Richmond has a sound that recalls the country sounds of Emmylou Harris, with carefully crafted songs and compelling vocal harmonies.
Hailing from the San Fernando Valley, the group draws on the spirit of L.A.'s Laurel Canyon, which spawned its own counterculture scene in the 1960s and spawned such artists as Joni Mitchell and Crosby, Stills and Nash, who met in Mitchell's living room and immortalized the setting in the Graham Nash-penned song, "Our House."
"We're here to tell people that Americana music is very much alive," Proffit says, "and California is a bountiful source for this style. We love to carry on the traditions of country, seen through a vibrant, new lens."
Taking its name from a pairing of "Cali" (as in California) and "Co" (for country), the band was featured at this year's Stagecoach Festival, as well as in the ABC TV show "Nashville" as well as NBC's "The Night Shift."
Formed in 2012, Calico recently released its debut album, "Rancho California," on its own label, California Country Records. The band is currently on a two-week tour that concludes with a show Nov. 13 at Darrell's Tavern in Shoreline (with Stacy Jones Band and Cheatin' River).
Proffit's songs have been featured in movies and TV shows, including "Friday Night Lights," "Dawson's Creek," "Smallville," "Party of Five" and the Martin Short comedy, "Jiminy Glick in Lalawood." Her solo album, "Lucky Girl," spawned two singles, "Something I Can't Be" and "Redemption Day."
Mosher won 2005 Female Singer/Songwriter of The Year and 2010 National Touring Artist of The Year at the Los Angeles Music Awards. Her album "Everything You Need," and the subsequent EP, "City of Clowns," brought positive reviews and a legion of fans around this country.
Richmond is an award-winning violinist/fiddler, as well as a talented inger-songwriter. She's performed and recorded with Shooter Jennings, Martina McBride and Tim McGraw, as well Alice in Chains and songwriter J.D. Souther. Her playing has been incorporated into TV shows, commercials and movies, among them "My One and Only," "Sons of Anarchy," "90210," "True Blood," "Devil's Ride" and "Togetherness."
Peter Roche of Cleveland Music Examiner couldn't have described them better:
"Yeah, they're lookers, alright. But it'd be too easy to dismiss Calico as the West Coast Dixie Chicks, or Taylor Swift for grownups. The material on Rancho California is more akin to the downhome Americana celebrated by the likes of Eliza Gilkyson, Lucy Kaplansky and Georgia Middleman: Sweet, sincere vocals gliding over shimmering guitars, mournful pedal steel, and melancholy strings to the backdrop of gentle piano, vintage organ, sinewy upright bass and no-frills drumming. We also detect traces of Springsteen, CSN, and Neil Young."
Learn more about the band here.