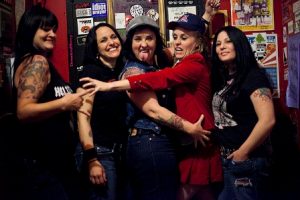 By GENE STOUT
Guitarist Adrian Conner, who portrays feisty Angus Young in the all-woman AC/DC tribute band Hell's Belles, recalls being "thunderstruck" the first time she heard one of the Australian band's raucous songs.
"I heard 'You Shook Me All Night Long' at a high school assembly and immediately got goose bumps," Conner said in a phone call from her home in Austin, Texas.
"I didn't even know who it was, but you don't forget that song. So I learned the song on my guitar, and also I learned 'Back in Black.' "
At the time, Conner, who had begun playing guitar at 16 while growing up in Federal Way, Wash., considered Led Zeppelin her favorite band.
But playing AC/DC songs seemed to come naturally.
"I was gravitating toward classic rock and classic rock radio because that's where all the intricate guitar music was at," she said.
Conner was invited to try out as Hell's Belles' rhythm guitarist in 1999, just before the Seattle-based band was launched by guitarist Amy Stolzenbach and singer Om Johari, both of whom later left the group.
"But I didn't get the job," she said. "Then they asked me again — a year and a half later."
Conner was picked because of how quickly she was able to learn nearly a dozen AC/DC songs.
Today, Conner captures the wild, animated spirit of Young in a show packed with hard-rock firepower. Her dreadlocks whip back and forth on stage, and she can spin on the floor just like the diminutive Aussie guitarist in schoolboy shorts.
But it took a lot of practice.
"I would practice on the floor on my back, turning around, and doing that whole Angus thing," she said with a chuckle.
"It took a really long time to get it to the point with the physical running and jumping sort of thing. The duck walk is not easy, but I'm getting better. That's really something that's (totally) him. But being crazy and running around and jumping comes easier."
The band's gleeful salute to the Aussie rockers is what brings fans back again and again. The novelty of an all-woman AC/DC cover band doesn't mask the band's collective skill and talent. They walk the walk and talk the talk.
In 2003, Young told Blender magazine that Hell's Belles was the best AC/DC cover band he knew of.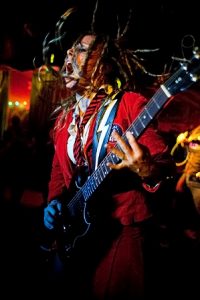 Hell's Belles' show Friday night, Jan. 13, at Neumos is the band's only scheduled Seattle show of 2012, even though two of the band members live here. The rest of the year will be spent in such far-flung places as Avon, Colo., and Grand Forks, N.D.
Friday's show includes sets by bands Palooka and Stone Axe. Doors open at 8 p.m. Tickets are $13 in advance at Moe Bar.
In addition to Conner, the band includes banshee lead singer Amber Saxon (who plays AC/DC's Bon Scott and Brian Johnson), rhythm guitarist Lisa Brisbois (Malcolm Young), bassist Mandy Reed (Cliff Williams) and drummer Laura D (Phil Rudd).
Reed is an original member of the band, but Saxon joined just last year. The women in Hell's Belles met Saxon at a show in Austin, a week after the annual South by Southwest festival.
"(Amber) and her brother were on tour in the U.S. They had been touring for seven years straight, just trying to not go back to Australia. They were pretty successful in Europe," Conner said.
"Somebody called us and said, 'You'll really love this band.' But there were only about five people there. The week after SXSW is the worst time to play in Austin."
But something clicked, and Saxon soon took on the role of lead vocalist, while other band members and associates (among them vocalist Jamie Nova) pursued new interests.
"So it just all came together by the stars," Conner said with a laugh. "It's pretty special how it all turned out, and everybody's happy. Everybody got to do what they wanted."
A career in music is something Conner had dreamed about since her teens at the height of the Seattle grunge era.
"The scene was incredibly alive," she said. "It seemed like anybody could be in a band and anybody could play. You didn't necessarily have to sound wonderful. People got gigs and people went to shows and it was truly an inspiring time."
Because she was underage, Conner couldn't go to adult clubs. So she practiced her guitar a lot. It helped when it came time to learn AC/DC songs.
"With AC/DC, it was very hard to tell the difference between the songs," she said. "They do use more than three chords. So anybody who says they only use three chords has no idea what they're talking about."
Learning Young's idiosyncrasies was also a challenge for Conner, who leads another band, The Sickness (the group is recording its second album with Kathy Valentine of The Go-Go's).
"There's these little things that Angus does, like little runs that I've never really perfected. It's just something in the pentatonic scale. I've never been able to do them naturally," she said.
Saxon, the new lead singer, also had big shoes to fill. The howling vocal styles of AC/DC's Brian Johnson and the late Bon Scott are hard for the mere mortal to duplicate.
"It's takes some lungs," Conner said. "(Amber) has a great attitude. She's one of those front-people who says, 'Hey, everybody, let's have a party together and have a good time.' It's brought a new vibe to our shows that we haven't had before."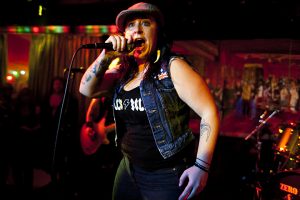 The women of Hell's Belles — minus Saxon, who hadn't joined yet — met AC/DC backstage at the Tacoma Dome in 2009.
"Brian was really nice. He was the only one who came to the meet-and-greet after the show, and he handled the room really gracefully," Conner said.
"Then the tour manager took us up to meet Angus and Malcolm. It was scary. What do you say? It's hard to think of things to say."
Conner said Young was very eager to chat. On the other hand, Malcolm "talked mostly to Lisa, who plays him."
"Angus asked me if I practiced a lot. He was into talking about what songs inspire them to come out with a new album."
Conner said the most memorable show of 2011 was on New Year's Eve in Jackson Hole, Wyo.
"We had a really good time. It was super-fun. The energy of the audience was just building exponentially."
In fact, the audience got slightly out of control.
"It's kind of bad to say, but if a fight doesn't happen at one of our shows, it sort of feels like we didn't really do our jobs," she said with a laugh.
In April, the band will play three shows in North Dakota, including the boom town of Dickinson, where the male population has surged because of oil production.
"It's gonna be awesome," Conner said, with more laughter.
Photos accompanying this story were taken by Seattle photographer Alex Crick. Visit his website here.
To learn more about Hell's Belles, follow this link to the band's website.