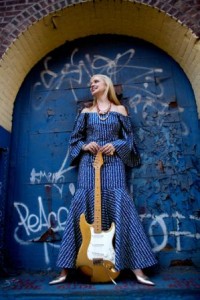 By MIKEL TOOMBS
She was born in Munich, studied at Berklee College of Music in Boston and now lives in New York City. But that's not the half of world-class jazz guitarist Leni Stern's musical journey.
Stern, whose first N.Y.C. band (in 1983) included fellow future guitar star Bill Frisell, now a Bainbridge Islander, has "spent most of my life," she said, "learning the blues in all its wonderful forms. Chicago blues, country blues, from John Lee Hooker to Robert Johnson to Albert King, that was a good part of the soundtrack of my life."
The intrepid Stern's explorations took her to a source of the blues, which master ngoni player Bassekou Kouyate "called Malian music," noted Stern, whose African Trio performs Friday, July 20, at Seattle's The Royal Room. (The Columbia City club, at 5000 Rainier Ave. S., is guided by jazz pianist Wayne Horvitz.)
"My attraction to the ngoni," Stern said of the precursor to the now-familiar banjo, "started at the 2006 Festival in the Desert, four hours north of Timbuktu in the Sahara desert. I met Bassekou Kouyate and his band Ngoni Ba there, and we performed together with his beautiful wife Ami Sacko, one of Africa's finest singers.
"When we played together, Bassekou complimented me on how well I played Malian music. At this point I had never been to Mali and even though I was a big fan of Toumani Djabate's kora and Salif Keita's voice, you could hardly call me an expert in Malian music."
Stern's current album, the intimate "Sabani," finds her in Mali and features her singer-songwriterish vocals and, more critically, her ngoni ba playing. "I love the sound," she said. "It plays the blues on its own, it seems."
Stern's recording adventures in Africa began when "on one of my trips to Mali, I met Salif Keita's engineer, Jean Lamotte," she recalled.
"He was staying at the same hotel and worked for a program Salif Keita, Universal France and UNESCO had put together. Its aim was to train African sound engineers in modern recording techniques, studio repair and maintenance, but they had forgotten to write a band into the project.
"I volunteered for a week and brought all my new African friends together for a recording: Bassekou Kouyate, Ami Sacko, Haruna Samake, Andara Kouyate, Ma Soumana, the list is very long.
"The young engineers were fantastic under the watchful eyes and ears of Jean Lamotte. We recorded 'Alu Maye,' my first African CD.
"When I returned to NYC with the music," Stern added, "my American friends wanted to participate in the project, so Michael Brecker, Deron Johnson and Mike Stern (her husband) contributed.
"To this day, I record all my projects at Salif Keita's studio with Abou Cisse, a graduate from the UNESCO program."
Follow this link to Stern's official website.
(EDITOR'S NOTE: Mikel Toombs is a frequent contributor to GeneStout.com. Read his recent blog on LMFAO here.)