By GENE STOUT
My closest friends know me as a collector of oddball automobilia — vintage cars, parts, signs, chrome baubles, plastic geegaws, bric-a-brac and vintage license plates — as well as musical recordings in almost prehistoric formats.
I recently found a set of 1956 Tennessee plates on the Internet that had been offered for sale by a company called Antiquarians of Chattanooga, Tenn. They sell a lot of unusual stuff, which you can find on their website.
The plates weren't cheap, but I couldn't pass them up.
Tennessee plates of a certain vintage have a lot of appeal, perhaps because of the state's history as a mecca for country music, blues and rock 'n' roll — and as a launch pad for Elvis Presley's career. There's even a John Hiatt song titled "Tennessee Plates" that references the Presley legend (more about this in a moment).
What's cool about Tennessee plates issued from 1936 to 1956 is that they're shaped just like the state itself, a trapezoidal design that defies the dimensions of a standard license plate frame. In fact, Tennessee is reportedly the only state that has issued a geographically shaped license plate.
In the mid-1950s, there were plenty of colorful and distinctive license plates with unique designs or slogans: Idaho ("World Famous Potato"), Nebraska ("The Beef State"), Kansas (The Wheat State"), Illinois ("Land of Lincoln"), Florida ("The Sunshine State") and Alabama ("Heart of Dixie"). Some slogans prevail to this day.
But Tennessee was home to Nashville, a.k.a. Music City USA, and the country music industry, as well as Memphis (the cradle of rock 'n' roll and blues), and Bristol (the "birthday place of country music"). Cats like Elvis Presley, Carl Perkins, Jerry Lee Lewis, Johnny Cash, members of the Carter Family and Sam Phillips (of Sun Records) likely all drove cars with 1956 Tennessee plates (though Hank Williams Sr. didn't live to see the day).
In the photo below, Elvis Presley poses in front of a new, pink (sorry, the photo is black and white) 1957 Cadillac apparently purchased in the fall of 1956 and issued with '56 Tennessee plates, as well as a 1957 "plate topper" that says "Memphis 1957." Presley was never lacking when it came to Cadillacs.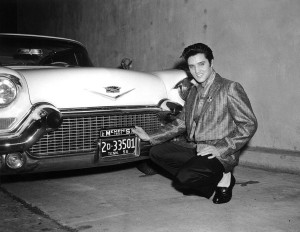 The image (as well as the one at the top of this blog) comes from the Cadillac Database, a website that features an abundance of cool photos of Presley's Cadillacs, a personal obsession for the king of rock 'n' roll. (The above photo is credited to Jason Edge and the Forum of the Cadillac & LaSalle Club, Inc.)
The song "Tennessee Plates" was written by John Hiatt in the 1980s and has since become a bar band staple. The song originally appeared on Hiatt's 1988 album, "Slow Turning," and later was used in the 1991 Ridley Scott film, "Thelma and Louise." Country singer Mark Collie recorded a version as the title song of his 1995 album, and Commander Cody recorded the tune for his 2009 album, "Dopers, Drunks and Everyday Losers." Tres Hombres and Joe Bonnamassa have also covered the song. And who knows how many bar bands have called themselves Tennessee Plates.
Enjoy Hiatt's video of "Tennessee Plates" below, from a 1987 TV show in Hamburg, Germany. It features the following verse:
"If they'd known what we was up to/
They wouldn't let us in/
And now we landed in Memphis like original sin/
Elvis Presley Boulevard to the Graceland gates/
See we were lookin' for a Cadillac/
With Tennessee plates. . . ."
Before you go, check out a facinating story about a new interactive website that plans to "imortalize" the songs of Tennessee, once described as a "mythical Shangri-La." The story is from the Nashville Tennesseean.
And if you can't find a set of vintage Tennessee plates to hang in your garage, visit the aftermarket website Licenseplates.tv and order a plate with your own vanity number. Your rock 'n' roll and country music-loving friends will be in awe.
By the way, the 35th anniversary of Presley's death is coming up Aug. 16. Get the latest news at his official website.
Finally, here's a link to the website for John Hiatt, who also wrote "Thing Called Love," a hit song recorded by Bonnie Raitt.