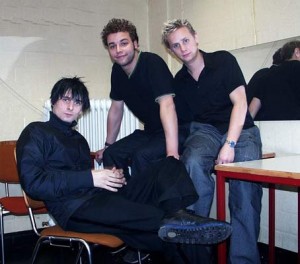 One of the most-anticipated rock shows of the spring — the double bill of Muse and Silversun Pickups — rolls into KeyArena at 7 tonight (April 2).
British band Muse is on tour playing songs its current album, "Resistance," a raucous glam-rock CD that has won the group many fans. And it hasn't hurt that the band has a single on the "Twilight" soundtrack. The band has been building on its succes since the album "Absolution" was released way back in 2003.
Muse played a last-minute headlining set at the SXSW music conference and festival last month in Austin, Texas, causing a stampede to Stubb's Bar-B-Q. Read a short review here.
The arena tour features a spectacular stage production, including lasers, video screens and giant columns.
You can read a preview of a recent Muse show in the Boston Survival Guide by clicking on this link.
Follow this link to Muse's Web site.
Tickets to the show are available here.
Watch an interview with Muse at the 2010 NME Awards: