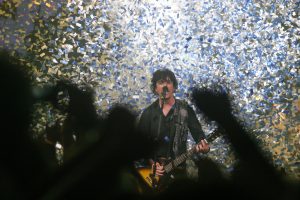 Director Michael Mayer has created a rock opera based on Green Day's "American Idiot" album.
According to the New York Times, the rock opera "has now reached Broadway as one of the most anticipated musicals of the spring, set to open on April 20, and Mr. Mayer's belief in the power of Green Day's explosive melodies is being put to the test."
The story by Patrick Healy goes on to say, "Ever since he first heard the 13 tracks on Green Day's smash 2004 album, 'American Idiot,' (Mayer's) dream had been to spin an ambitious rock opera out of that song list."
Read the entire story here.
Green Day performed last July at KeyArena. Read my review here.
Here's a link to Green Days Web site.