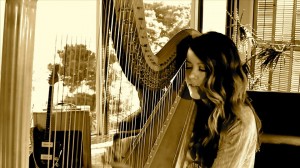 By MIKEL TOOMBS
"It was difficult writing indie rock on the harp," Anna Cate begins.
It is a truth universally acknowledged, you nod, and then, wait: Anna Cate wrote indie rock on the harp?
Yes, Anna Cate, a Seattle musician who also plays piano and guitar, is a classically trained harpist. And, she explains in a press release, "Classical harpists rarely use repeated notes, but I went ahead and repeated notes in creative ways, sometimes adding accents, sometimes muting the repeated notes for a staccato effect.
"I also changed tempos and meters, sometimes adding a beat and sometimes taking a beat out. Nathan (producer Nathan Yaccino) was careful to keep these nuances as we arranged the music for the EP."
You can hear the indie-rock nuances on Anna Cate's debut EP, the aptly named "Anna Cate," even on the disarmingly sweet "This Old Radio."
And you'll surely hear them Tuesday, Nov. 6, at Seattle's intimate Fremont Abbey, where she opens for Graham Colton, the Oklahoma singer-songwriter who, if his Wikipedia page is at all accurate (it has "multiple issues"), is a former high school quarterback who completed passes to future NFL receiver Wes Welker and, later, to singer Kelly Clarkson.
For more information about Cate, visit her website here.
(EDITOR'S NOTE: Mikel Toombs is a frequent contributor to GeneStout.com. Read his recent review of Taylor's Swift's new album here.)