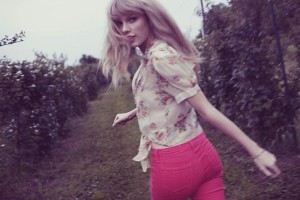 By MIKEL TOOMBS
Pure pop for now people.
The prescient Nick Lowe had Taylor Swift's new album, "Red," sized up many years ago, well before she was even born.
Now, Swift already established herself as the best songwriter in pop music today with her last album, the rollicking "Speak Now": "Back to December" is pretty near a definitive power ballad and there is nothing she does better than "Revenge."
"Red" often seems a seems a step back for Swift, 22, who at times sounds as if she's joined the strummy Hotel Café society (per "Begin Again," she apparently owns a lot of James Taylor records). At others, she might be channeling her inner Carly Rae Jepsen (hitmaker Max Martin is involved).
Sparks fly, though, on the magnificent title song and on the snarky hit "We Are Never Ever Getting Back Together" ("never ever ever ever!"). And then there's the delicious, self-aware humor of "22," a girls-night-out anthem where she imagines she's that age "again." One presumes that one rejected song title was "(We're Going to Party Like It's) 2012."
And among the many ("Red" contains a daunting 16 songs) wistful ballads here, "All Too Well" offers vivid memories of better days and paradise by the refrigerator light.
(EDITOR'S NOTE: Mikel Toombs is a frequent contributor to GeneStout.com. Read his recent preview of a Rosie Flores concert here.)