By GENE STOUT
The massive, four-legged canopy of U2′s 360 Degree Tour is 90 feet tall, with a center pylon that soars 150 feet into the air.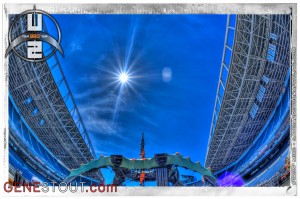 The mega-tour's cylindrical video screen weighs 54 tons is 14,000 square feet when opened — as big as two double tennis courts.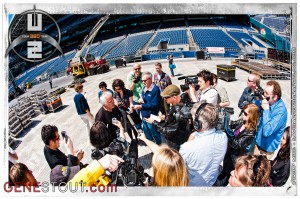 What's more, the video screen is made up of more than 1 million pieces. That translates into 500,000 pixels, 320,000 fasteners, 30,000 cables and 150,000 machined pieces. Compare that to your average toaster.
These facts were revealed at a press conference Friday, June 3, at Qwest Field as workers were putting finishing touches on Seattle's biggest concert production of the year. There are few stadium shows on the road these days, and U2's is currently the biggest.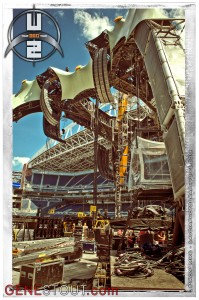 On hand to take photographers and reporters on a tour of the mammoth production that will rock Seattle tonight, June 4, were tour production manager Jake Berry and and tour director Craig Evans.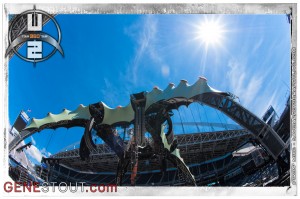 Seattle rock photographer Mike Savoia took the accompanying photos at the press conference, giving readers a dramatic preview of what they'll see tonight at Qwest. Savoia will be shooting the U2 concert tonight for my review. Visit his Web site here.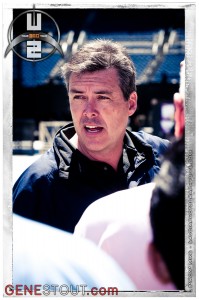 When U2 played the old Kingdome in 1997, lead singer Bono expressed doubts that the band would ever be able to launch another stadium tour because of the expense and logistics. But U2 is now the top dog of touring bands, breaking records each year. The 360 Degree Tour is now the highest-grossing tour in history, blowing past the Rolling Stones' Bigger Bang trek.
Many Seattle fans have waited up to two years to see U2 in Seattle, and there's a good bet the show will be worth the wait.
Last year's Seattle show was canceled when Bono injured his back and required emergency surgery and and lengthy recuperation.
A crowd of more than 60,000 is expected at the show, which has been the hottest ticket of year. Lenny Kravitz opens at 7:30 p.m.
Be sure to plan your trip to Qwest very carefully. The traffic jams would give Mayor Mike McGinn heart failure.
Read my preview of U2's 2001 Tacoma Dome concert here.