By MIKEL TOOMBS
Many classic Southern rock bands were proud to declare, echoing popular regional sentiment, "The South will rise again."
Now, at least the "Southeastern," to borrow the title of Jason Isbell's acclaimed new album, has returned with a vengeance.
That's "Southeastern" as in Alabama, whose namesake country band is seeing its 40-year-plus career celebrated on at least two tribute albums. One is the official "Alabama & Friends," headlined by the likes of Jason Aldean, Toby Keith and Kenny Chesney.
That CD's scruffier country cousin is "High Cotton: A Tribute to Alabama," which stars, well, Jason Isbell. "There's a reason Alabama is the biggest country band of all time," Isbell has said, perhaps a bit defensively (Alabama has never been hip). "The songs they recorded are great reflections on what it's like to live and love in the South."
"Alabama's music is part of the country music catalog that represents my childhood," added Amanda Shires. (Check out her new album, like "Southeastern" and "High Cotton" on Lightning Rod Records, "Down Fell the Doves.")
"They really have great songs, and it's nice to see that those songs haven't been lost or forgotten," singer-violinist Shires said. "Also, if you didn't notice, they use and showcase the fiddle."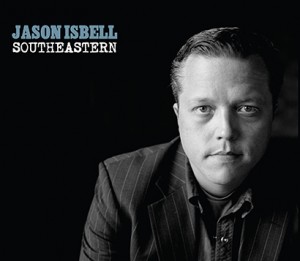 Happily, the great songs on Isbell's "Southeastern" won't easily be forgotten. Critics have widely praised the album, singling out the devastatingly poignant "Elephant."
"Elephant" is so good that Isbell felt compelled to perform it during a Seattle promo appearance last week at Amazon, no matter how incongruous the lunchtime setting: "Here's a song about cancer to go with your sandwich," he mused in concert that night (Sept. 10) at Neumos.
Neumos was an ideal setting for Isbell, who performed a sensational set with his band, the 400 Unit, which features Shires. The show not only included his best songs, some written while he was in the Drive-By Truckers, but also what he termed the "best heckle ever": "Play something sad!"
True, many of Isbell's story songs can be despairing, but they're invariably deeply felt and so bracingly played here that they were exhilarating.
There were some happy moments, notably the sobering, "Norwegian Wood"-good "Cover Me Up" and "Traveling Alone" ("I've grown tired of traveling alone"), with Shires shooting Isbell meaningful glances. These songs, of course, are about her (and him), and now they're married.
In her opening set Shires said that her favorite singer-songwriters are Isbell and Leonard Cohen, before performing a cover of "I'm Your Man," which she most definitely is not.
Shires is no longer alone in her opinion. "Southeastern" has been hailed as a sterling example of the songwriting craft, journeying from the tender "Stockholm" to the Southern-rocking "Super 8": "I don't want to die in a Super 8 motel," he declares, sensibly enough. (Isbell himself has moved from Alabama's storied Muscle Shoals to Nashville.)
His Southern rock roots surely explained some of the guy-skewing audience (true, Neumos is on Capitol Hill, but that wasn't it). Amusingly, Isbell's final song, a blistering version of "Can't You Hear Me Knocking" from the Rolling Stones album "Sticky Fingers," partly recorded at Muscle Shoals Sound Studio, was a no-girls-allowed affair.
By the way, Alabama played the Washington State Fair Sept. 16.
(EDITOR'S NOTE: Mikel Toombs is a frequent contributor to GeneStout.com. Read his recent post on rock band Valient Thorr here.)