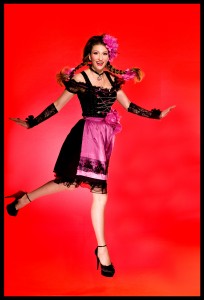 By GENE STOUT
Manuela Horn, dubbed the "Austrian Amazon," is the headliner of the 2013 Oktoberfest celebration Friday through Sunday, Sept. 20-22, at the Evergreen State Fairgrounds in Monroe.
Horn has been described as "a yodeling, dancing, acting comedic force of nature." In 2002, she appeared at Seattle's Teatro Zinzanni show as a yodeling dominatrix. In 2009, she was discovered by TV's "America's Got Talent." Horn is currently recording three albums – an Oktoberfest party album, an "Alpine Rock" comedy album and a collection of the classic yodels of her childhood.
Horn performs from 9:30 to 11:30 P.M. Saturday, Sept. 21, at the Oktoberfest mainstage.
Oktoberfest features three days of nonstop, all-ages entertainment. Other mainstage performers include Johnny Koenig (polka star and accordion player), Enzian Shuhplattler Dancers, Smilin' Scandinavians and Happy Hans.
Also part of the fun is Hammerschlagen, an addictively fun game that entails hammering nails into a stump while the crowd cheers and yells encouragement. The Hammerschlagen Tournament of Champions begins with qualifying rounds at 7 and 8 p.m. Friday. Additional qualifying rounds begin at 6 and 7 p.m. Saturday, and the championships start at 8 p.m. Saturday. Other games include the Cornhole Toss and Holey Boards.
Throughout the weekend, festival goers can count on plenty of German food and beer, as well as such family activities as the Root Beer Garden and free pumpkin decorating.
For ticket prices and additional information about Oktoberfest, visit the official website here. And learn more about headliner Horn at ManuelaHorn.com.
Watch Horn in a video about "dominatrix cooking":