By MIKEL TOOMBS
"Train wreck!"
A random guy, quoting the conventional wisdom, shouted that at regular intervals during Hole's performance Sunday (Sept. 5) at the Bumbershoot festival's Mainstage (Memorial Stadium).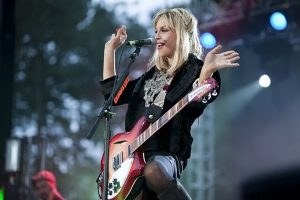 He was roundly ignored, probably because Hole's whole reason to exist, tabloid-baiting frontwoman Courtney Love, was inimitably witty and even lucid throughout her band's hour-plus set. And, just perhaps, because a train wreck would at least sound more interesting than the generic rock backing supplied by Love's current, grunge-free support staff.
On the other hand, Love herself, back in the memory-laden place she now called simply "home," was devilishly entertaining. She deconstructed hometown heroes Pearl Jam's "Jeremy" (she was proudly awful) and reacted to an accusation of being "fat" by citing Kate Moss, with whom she once had a purported affair.
Best of all, Love took the bull by the (devil) horns by opening (after a spiky snippet of "Pretty on the Inside," which had allowed Love to introduce herself in 1991) and closing with passages from the Stones' "Sympathy for the Devil," slightly reworded: "Some people call me Courtney," she sang, or, rather, rasped. (Love's voice, ravaged by cigarettes and who knows how many other substances, actually was in relatively robust shape Sunday.)
Whatever musical sympathy she engendered with that inspired bracketing, she surrendered with much of what came in-between. In particular, this Hole butchered everything it touched, including "Doll Parts" and the title song, from the classic '94 album "Live Through This," which had featured the sadly missed lineup of Love, guitarist Eric Erlandson, drummer Patty Schemel and bassist Kristen Pfaff, not to mention the uncredited input of Love beau Kurt Cobain. (Cobain and Pfaff, of course, didn't even live through that year.)
Hole fared better with new material, from the current album "Nobody's Daughter," like the inevitable "Skinny Little Bitch" and the disarmingly melodic "Pacific Coast Highway." Love bizarrely (it had to happen at least once) introduced the latter by reciting the now-legendary address of the Kurt and Courtney residence, "171 Lake Washington Boulevard."
The photos is this post were taken by Seattle photographer Alex Crick. Visit his Web site by following this link.
Watch a video of Love from a KNDD "End Session" interview Sunday (Sept. 5) at Bumbershoot. Love has an amusing interchange with Charles R. Cross, author the Kurt Cobain biography, "Heavier Than Heaven," about the upcoming biopic about Cobain.
EDITOR'S NOTE: Mikel Toombs writes a weekly music column for the San Diego News Network and is an occasional contributor to GeneStout.com. For another recent story by Toombs on Star Anna's performance at Bumbershoot, click here.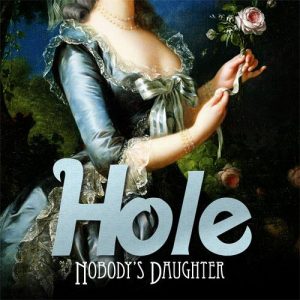 What did you think of the concert? You can comment below.