The 40th annual Bumbershoot festival opened Saturday (Sept. 4) with a raucous lineup of performers, from 69-year-old Bob Dylan to hot Seattle band Visqueen.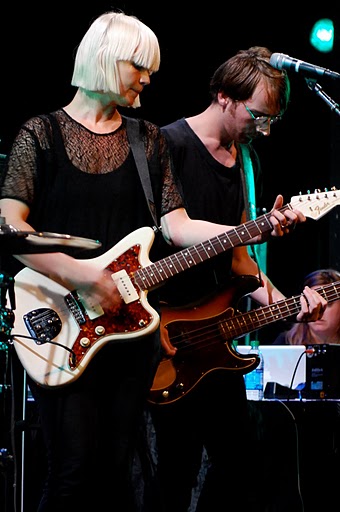 Among the many acts that rocked stages throughout Seattle Center were Neko Case (opening for the craggy Dylan), Solomon Burke, Wheedle's Groove, The Maldives, Star Anna & the Laughing Dogs, The Decemberists, Justin Townes Earle and The Raveonettes.
Danish rock duo The Raveonettes, featuring Sune Rose Wagner and Sharin Foo, offered a retro set at the Broad Street Stage that fused vintage rock 'n' roll with modern, angst-filled indie sensibilities. Wagner and Foo created their name from Buddy Holly's "Rave On" and '60s group The Ronettes, and it showed in the duo's spirited performance.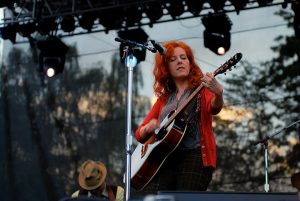 Formed in 2004, Wheedle's Groove celebrates the Seattle funk and soul scene of the 1960s and '70s. The group's rambunctious set at the State Farm Stage (Fisher Green) featured such musical guests as Pat Wright and members of the Total Experience Gospel Choir. It was like a musical history lesson. The group is the subject of a movie, which you can read about here.
Mayor Mike McGinn kicked off the set by proclaiming Sept. 4 "Wheedle's Groove Day"; it was a well-deserved honor for the group, which McGinn called "an overlooked jewel in the crown of Seattle music."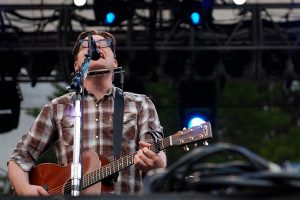 Neko Case was, as always, a wonder to behold at the Mainstage (Memorial Stadium). She's a powerful singer and storyteller, and her mere presence was arresting. It was interesting that she opened for Dylan, whose voice was raspy and feeble. Dylan forbade any professional photos, though cell-phones were working overtime to capture images of the folk-rock legend.
The Decemberists, led by singer Colin Meloy, preceeded Case with a set combining old-school folk and hard rock with beautiful melodies and compelling stories.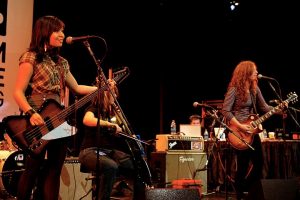 Led by singer-songwriter Rachel Flotard, Seattle band Visqueen seethed with energy at Sky Church at the Experience Music Project. Visqueen's current album, "Message to Garcia," which was featured in the set, is a tribute to Flotard's late father.
Read Mikel Toombs review of Star Anna, who was joined by Seattle singer-songwriter Carrie Akre and Pearl Jam guitarist Mike McCready at Starbucks Stage (Mural Amphitheatre), by following this link.
The photos accompanying this post were taken by Seattle photographer Kam Martin. Here's a link to her Web site.