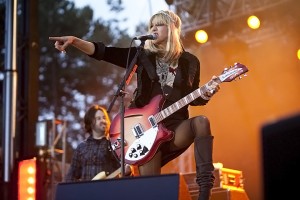 By MIKEL TOOMBS
"I am weird about Seattle," Courtney Love, Kurt Cobain's widow, declared last night (Tuesday, July 21) at the Moore Theatre. "This is my thing."
And in a delightfully haphazard concert (she'll return more properly around Christmas, hopefully bearing the wild gift of a new album), Courtney proved herself ever so endearingly weird. That also is her thing.
Courtney began her set by asking how many of the 1,000 fans (her estimate; the night before in Vancouver, "4,000: sold out") were gay. About half the audience raised their hands. "Thank God for that." OK, nothing weird there.
But this was a (relatively) kinder, gentler Courtney Love, who wore underwear (yes, she made sure you knew it) and boasted she'd been crime-free since that unpleasantness in 2004: "Nothing. Not even a parking ticket. I'm a goddamn citizen, just like yourself."
Last night, Courtney, now 49, was in fine, um, rasp. (She wondered if smoking cigarettes, as she did, affected her voice. Ya think?) She also rocked a very Stevie Nicks-onian leather-and-lace-like look, and she even sang "Gold Dust Woman."
Courtney (I'm sure the New York Times calls her Ms. Love, but no one else can) worked her way randomly through her set list, backed by a new, punk-edged band that, while not as vibrant as the "Live Through This"-vintage Hole, put the generic version she fronted at Bumbershoot three years ago to shame.
And it was the "Live Through This" songs the faithful wanted to hear, and did, when Courtney gave them the vote. She ripped through powerful versions of "Doll Parts" (not to be confused with Seattle's Dahl Park), "Violet" ("That last song we wrote a block away," she noted, adding, "isn't that cute?") and the asked-for "Jennifer's Body" and "Asking for It."
Opening was the Brooklyn trance-country band Starred, which hinted at Love fronting Cowboy Junkies (along with a cowboy hat, the singer wore a Courtney-short dress), only without the much-needed drama.
(EDITOR'S NOTE: Mikel Toombs is a frequent contributor to GeneStout.com. Read his recent post on My Morning Jacket here.)