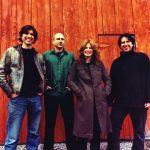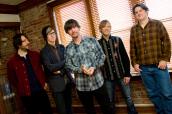 Singer Margo Timmins of Cowboy Junkies has always been a reluctant star.
Sauntering on stage in a flowery dress last night at the Woodland Park Zoo, Timmins seemed more like an old friend sharing a song at a backyard party than one of the queens of alternative rock and country.
The five-member band that formed in Toronto in 1985 was typically laid-back and melancholy, opening the sold-out Zootunes concert with "Crescent Moon," a heart-tugging tune featuring the lyric, "You're looking cold and tired and more than a little human."
Singing songs such as this would make anyone feel world-weary after a few shows, let alone a career that has survived more than 20 years. But Timmins brings surprising warmth to such downcast material with her dreamy, hushed vocals and lovely nonchalance.
The concert included a second set by St. Louis-based Son Volt. The two roots-music bands are on tour together, alternating sets each night.
Cowboy Junkies continued with "A Common Disaster," "Hold On to Me," "Confession of Georgia E.," "Hunted" and "Murder, Tonight, in the Trailer Park," which closed the hourlong set. The group road-tested an intriguing new song, "Sing in My Meadow," featuring slide guitar.
"I Don't Get It" and the traditional song "Working on a Building " were from "Trinity Revisited." It was released last year on the 20th anniversary of the band's breakthrough 1988 album, "The Trinity Session," recorded at Toronto's Church of the Holy Trinity. The former song, Timmins explained, was written after she had taken a computer course 25 years ago and decided it wasn't a career path she wanted to follow.
"I was confused," she said. "Thank God I didn't have to go in that direction."
Jeff Bird, who has performed with the Junkies for two decades, is a brilliant mandolinist, coaxing sounds from the instrument that gave the song a metallic edginess. Bird also played harmonica.
Filling out the band were siblings Michael Timmins (the group's principal songwriter) on guitar and Peter Timmins on drums, as well as Alan Anton on bass. Collectively, the band seems to fuse the rawness of the Velvet Underground with the heart-on-a-sleeve melancholy of Hank Williams. Check out the band's tour diary.
After a short break, Son Volt stepped out for the second set, led by singer, songwriter and guitarist Jay Farrar, who helped launch the alt-country movement with his previous band, Uncle Tupelo.
The five-member band played in a faster tempo, with more of a rock sound, but the set complemented Cowboy Junkies' cool country-noir.
Son Volt focused on songs from its current album, "American Central Dust," a roots-rock album with a Depression-era feel. Among the standouts from the new disc was the taut, hard-rocking "Dynamite," with its timely (for Seattle voters) lyric, "Plastic grocery bags fly from the trees/ Proud symbols of cavalier progress."
Among other songs from the new album were "Pushed Too Far," "Dust of Daylight" and "When Wheels Don't Move." Older songs included "The Picture," "Bandages and Scars" and "Windfall." Farrar's "Big Sur," dedicated to Beat Generation writer Jack Kerouac, had a dark, literary feel.
The show concluded with a raucous, pull-out-the-stops "Are You Sure Hank Done It This Way."