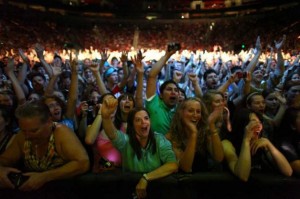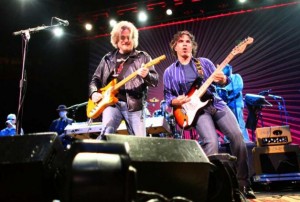 By GENE STOUT
No music fan was too young or too old for Daryl Hall and John Oates' Bumbershoot weekend finale Monday night, Sept. 5, at KeyArena.
The veteran rock and soul duo known for such hits as "Private Eyes" and "Kiss on My List" played to a packed house of concertgoers that spanned multiple generations.
This has always been one of the great strengths of Bumbershoot, Seattle's Music and Arts Festival, held Sept. 3-5 at Seattle Center. It's a cultural smorgasbord that allows festival-goers of many different ages to sample a wide variety of sights and sounds for a single ticket price.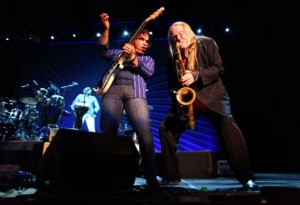 Older Hall & Oates fans who followed the duo in its late-'70s to mid-'80s heyday might have been surprised by the number of teens and young adults who grooved to the duo's soulful, high-energy music.
Hall and Oates were in fine form, opening with the powerful "Maneater," featuring wailing saxophone by Charles DeChant, one of six members of the backup band. The duo pumped out hit after hit: "Out of Touch," "How Does It Feel to Be Back," "Adult Education" and "Say It Isn't So."
Hall and Oates have had a dozen of hit singles on the Billboard Hot 100 since forming in the 1970s, and their music has been part of the soundtrack of many lives, even teens who can't remember when they first heard the group.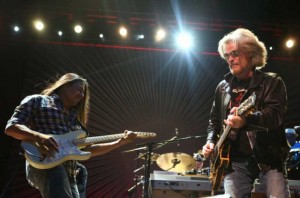 Hall's voice soared on "She's Gone," even though the sound quality at KeyArena was somewhat harsh and gritty. Hall's guitar playing on a moving, emotional "Sara Smile" featured the cool grooves of the duo's classic rock and soul. Hall switched to keyboards for "I Can't Go for That (No Can Do)," which closed the main set on a high note.
The duo returned for "Rich Girl," a 1977 hit, followed by "You Make My Dreams (Come True)" from 1981.
When Hall and Oates returned for a second encore, Hall told the crowd, "This is lots of fun." The show closed with freshly arranged versions of "Kiss on My List" and the uplifting "Private Eyes."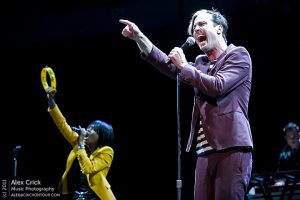 Opening for Hall and Oates were Fitz and the Tantrums, a Los Angeles neo-soul group that owes a lot to the Hall and Oates sound. With singers Michael "Fitz" Fitzpatrick and Noelle Scaggs at the helm, the group pumped out a dozen powerful songs, among them "Pickin' Up the Pieces" (the title song of the group's current album), "Rich Girls," a wild cover of the Eurthymics' "Sweet Dreams" and MoneyGrabber," the band's explosive hit song.
The group appeared last year on Hall's Internet show, "Live From Daryl's House," giving the band a tremendous boost. (Read an interview with Scaggs here.)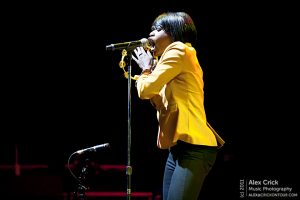 Fitzpatrick's voice resembles that of Hall's, though it isn't as smooth or powerful. Scaggs was sensational, gyrating sensuously as she wailed through her vocal parts.
Fitzpatrick told the crowd to "lose their friggin' minds" – and that they did.
Earlier in the day, soul musician Charles Bradley thrilled the crowds at Fisher Green Stage. Bradley lived up to his reputation as the "Screaming Eagle of Soul" with a rambunctious set.