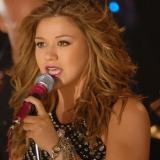 Would my life suck without Kelly Clarkson?
Probably not.
But for nearly an hour and a half Tuesday night at WaMu Theater, the former "American Idol" proved indispensable in keeping me and thousands of her fans entertained with an onslaught of such past and present hits as "Breakaway," "Behind These Hazel Eyes," "I Do Not Hook Up" and "My Life Would Suck Without You." Clarkson performed with a surprisingly effective blend of polish and grit.
Among the fans buying up souvenirs at the huge merchandise table were a group of tween girls decked out in matching purple "I Do Not Hook Up" T-shirts. They looked blissfully happy.
Clarkson's high-energy pop-rock can be exhilarating when delivered in an arena setting with high-powered sound and lighting and an entourage of nearly a dozen well-rehearsed singers and musicians, among them three horn players. And Clarkson's fans were more than happy to clap and sing along to most of the songs.
In addition to a blizzard to hits, Clarkson also paid tribute to Patsy Cline, whom she has admired since childhood, with a powerful, blues-influenced version of "Walking After Midnight."
Clarkson, winner of the first "American Idol" competition in 2002, often twirled like a top while delivering spirited versions of her most popular songs from four albums, the current being "All I Ever Wanted." The CD made its debut at No. 1 and has sold more than 250,000 copies in its first week of sales (her total album sales to date have surpassed 10 million).
The 27-year-old Texan said she loved Seattle's weather — only a Texan would this time of year — and acknowleged the support of local fans over the last decade.
Clarkson fused Alanis Morissette's "That I Would Be Good" with the Kings of Leon's "Use Somebody," explaining beforehand that they were two of her favorite songs. In the Morissette portion, she inserted the line, "I would be good even if I gained 10 pounds," as a retort to those who have teased the singer about her weight.
Another favorite, "Lies" by The Black Keys, featured a bluesy, stripped-down arrangement that was the best cover song of the show.
Among the most powerful songs of her own were "Because of You" (written when she was "a kid" and later sung with Reba McEntire) and high-powered "Since U Been Gone," accompanied by a blinding burst of lights.
"Behind These Hazel Eyes" was performed acoustically, with the audience singing along while Clarkson lowered her voice.
Clarkson's concert concluded with "My Life Would Suck Without You" during a multi-song encore. With that, the show ended as it began — with a bang.
Opening the show with short sets were Parachute and Eric Hutchinson. Read the concert preview here.
Here's a video of Clarkson's singing "That I Would Be Good" and "Use Somebody" at a show in October: