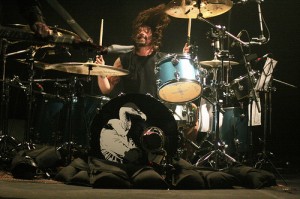 Northwest photographer Steven Friedrich shot these photos of Them Crooked Vultures, led by drummer Dave Grohl.
Grohl, of course, was the drummer for Nirvana and founder of Foo Fighters, for whom he played guitar.
Them Crooked Vultures includes guitarist Josh Homme (Queens of the Stone Age, Kyuss and Eagles of Death Metal) and bassist John Paul Jones (of Led Zeppelin). "New Fang," the first single from the band's self-titled debut album, was released (Nov. 17). (The group plans to release a second album; read about it here.)
And check out a review by Seattle freelance writer Jonathan Zwickel.