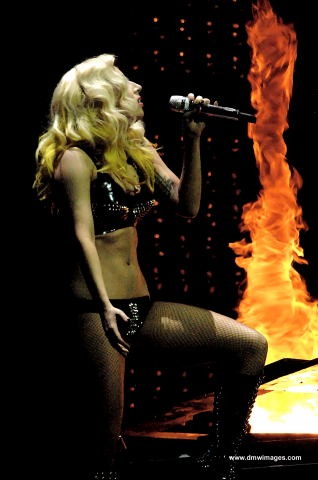 Lady Gaga has come a long, long way since her first performance at the Tacoma Dome in 2008 as opening act for New Kids on the Block.
During that overwrought set, she kept shouting, "Hello, Seattle," apparently unaware of where she was.
But in her triumphant return to the Tacoma Dome Saturday night (Aug. 21), Gaga was keenly aware of her location — and of its significance to her career. Just weeks after performing with NKOTB, Gaga was a pop star with her first hit.
"There must be something magic about this room," the singer told a capacity crowd dressed in wild costumes (yellow caution tape and spike heels were popular accessories).
At the moment, Lady Gaga (24-year-old Stefani Germanotta) is the biggest pop star on the planet, with multiple hits and a lavish "Monster Ball" tour that requires nearly two dozen tractor/semi-trailors to haul all her stuff. And that stuff includes a multi-level stage, two video screens, a piano that sends up a plume of fire, and giant LED chandolier and enough costumes to challenge the director of a Broadway musical.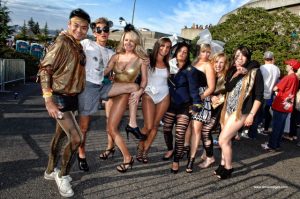 Among the props in the show was a smoking jalopy with a Rolls-Royce grille. When Lady Gaga raised the hood, the engine compartment revealed an enormous keyboard.
The segment included neon signs depicting a New York street scene. A neon "Hotel Hass" sign flickered into a "Hot Ass" sign when certain letters disappeared.
A stage that extended into the audience allowed the singing star and her entourage of dancers to frolic amid concertgoers.
According to Billboard magazine, Lady Gaga is expected to make about $200 million from her globe-trotting tour.
Lady Gaga doesn't seem to take her fame for granted. Following the lead of '70s rockers KISS, she vowed to do meet-and-greets with fans in hopes of being a pop star many decades into the future.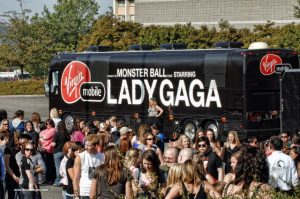 The day began with a pre-concert party at the Dome's Exhibition Hall, where merchandise was sold for lofty prices and a small stage offered musical performances. Local radio stations were on hand to pump up the crowd, which needed little pumping. And black stretch limos were lined up for blocks, hired by fans to attend the concert event of late summer.
After a flamboyant opening set by fellow New Yorkers Semi Precious Weapons, Lady Gaga made her explosive entrance.
Her two-hour show was loaded with hits: "Just Dance," "Beautiful, Dirty, Rich," "Vanity," "Boys, Boys, Boys," "Speechless," "Monster, "Alejandro," "Poker Face," "Paparazzi" and the mega-hit closer, "Bad Romance." Her voice ranged from a sexy growl to a soaring operatic howl.
Though she wore multiple costumes, she never looked better than when she was wearing a jeweled, two-piece black bathing suit. With her long, blond hair, she resembled a 1940s femme fatale, a Veronica Lake or Lauren Bacall for millennials.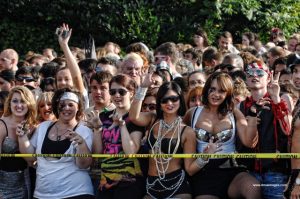 Lady Gaga paid tribute to the fans she calls "monsters" that have taken her into the pop stratosphere, the misfits that reflect her own over-the-top persona.
The pop star said she created the "Monster Ball" tour so that her fans "would have a place to go."
Indeed, the former high school pariah seems to care a great deal about the misfits who make up a large portion of her vast fan base. Providing them with an environment for unfettered self-expression is obviously very important to her. She made a point of criticizing Hollywood for its (according to her) contempt for the moviegoers who make the movie stars famous.
And Lady Gaga admits to no small ego. "I'm kind of like Tinker Bell," she said. "You know Tinker Bell might die if you don't clap for her."
Perhaps the strangest segment was her come-to-Jesus moment, when she said, "Jesus loves everybody." Her apparent point was that Jesus accepts her "little monsters" as much as members of the rosary bead set, but it was still a bit strange with its gushing of fake blood.
Visit Lady Gaga's Web site by following this link.