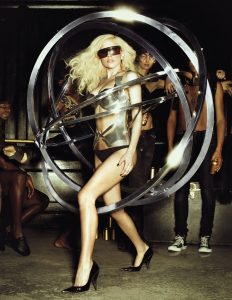 Lady Gaga has come a long, long way since her first performance at the Tacoma Dome in 2008 as opening act for New Kids on the Block.
During her overwrought set, she kept shouting, "Hello, Seattle," apparently unaware of where she was.
But in her triumphant return to the Tacoma Dome Saturday night (Aug. 21), Gaga was keenly aware of her location — and of its significance to her career. Just weeks after performing with NKOTB, Gaga was a pop star with her first hit.
"There must be something magic about this room," the singer told a capacity crowd dressed in wild costumes (yellow caution tape and spike heels were popular accessories).
At the moment, Lady Gaga is the biggest pop star on the planet, with multiple hits and lavish tour that requires nearly two dozen tractor/semi-trailors to haul all her stuff. And that stuff includes a multi-level stage, two video screens, a piano that sends up a plume of fire, and giant LED chandolier and enough costumes to challenge the director of a Broadway musical.
The day began with a pre-concert party at the Dome's Exhibition Hall, where merchandise was sold for lofty prices and a small stage offered musical performances. Local radio stations were on hand to pump up the crowd, which needed little pumping.
After a flamboyant opening set by fellow New Yorkers Semi Precious Weapons, Lady Gaga made her explosive entrance.
Her two-hour show was loaded with hits: "Just Dance," "Beautiful, Dirty, Rich," "Vanity," "Boys, Boys, Boys," "Speechless," "Monster, "Alejandro," "Poker Face," "Paparazzi" and the mega-hit closer, "Bad Romance."
Lady Gaga paid tribute to the fans she calls "monsters" that have taken her into the pop stratosphere, the misfits that reflect her own over-the-top persona.
I'll have an updated review posted by Monday (Aug. 23). Visit Lady Gaga's Web site by following this link.