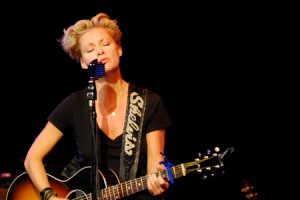 Regardless of whether she's singing about a "loser dreamer," a desert rain storm, "brown liquor" or a vintage Airstream trailer, Shelby Lynne brings humor, pathos and true grit to a live performance.
The Grammy-winning, Alabama-bred singer-songwriter, who opened her spring tour April 22 in Los Angeles, is on the road with the first album on her own label, Everso Records. She abandoned her previous label like an unfaithful lover in one of her cheating songs, ridding herself of a bad relationship with a bracing sense of freedom.
Even though she wrote them before her relationship with her last record label went south, many of her new songs reflect the feeling of purification that can come from starting over.
In "Something to Be Said," an ode to an Airstream trailer, her wanderlust is fueled by nostalgia and a passion for vintage style. In "Rains Came," a desert storm in her current hometown of Rancho Mirage, Calif., is like a cleansing shower. And "Alibi," one of the best original songs she has recorded in the last decade, is a musical tale about escaping a life of loneliness and deceit.
Though many of her songs are infused with a deep sense of melancholy, Lynne was playful and good-humored last night (April 27) at the Triple Door, where guitarist John Jackson and bassist Brian Harrison joined her for 90-minute set that began with nearly a half dozen tunes from her new album, "Tears, Lies & Alibis."
Singing in a spare, but powerful voice, Lynne opened with "Rains Came" ("We always like being back in the rainy city of Seattle," she said in her Alabama drawl), then continued with "Like a Fool," "Why Didn't You Call Me" and "Alibi," which conveyed the lonesome heartbreak of a Jimmy Webb/Glen Campbell ballad.
"I love my country, and I have reasons why," she said, introducing "Something to Be Said." She sang about going on a fishing trip in an Airstream, but the "fish" she was hoping to catch could easily have been the silver-skinned trailer she has long desired.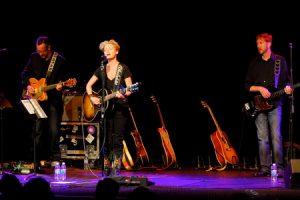 Jackson and Harrison, who backed Lynne in the studio when she recorded "Tears, Lies & Alibis," offered expert, understated backup. Jackson, on Dobro, harmonica and several other guitars, played exquisitely (except for a humorous flub during the encore).
The free-spirited Lynne, whose sister is country singer Allison Moorer, has lived a life filled with tragedy and triumph. In her teens, she witnessed her parents' murder-suicide. At 18, she appeared on the talent show "Nashville Now." Then came a duet recording with George Jones, "If I Could Bottle This Up," that launched a recording career filled with ups and downs.
Many of her songs have reflected the dark side of life: "Life Is Bad," "10 Rocks," "Buttons and Beaus" and "I'm Alive."
Today, with a new album on her own label, Lynne is on a rebound. "I've never felt more free," she said in a recent interview.
But the sadness persists. "Loser Dreamer," another memorable new song about musicians and relationships, grew out of a conversation with bassist Harrison, who recalled a girlfriend who had dismissed him as a "loser dreamer" before ending her relationship with him. Jackson added a mournful harmonica to the song for an extra dose of melancholy.
Then came a drinking song, a toast to "brown liquor": "Old #7." "Is it too early for drinkin'?" Lynne asked.
Lynne sang "Leavin' " after a fan requested it, then called him to the edge of the stage for a big hug. She just seemed to need it.
"Y'all make a woman feel good," she said when the audience demanded an encore. "Thank you for your money and your time."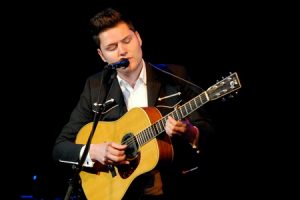 After a few humorous missteps, Lynne closed the show with a gorgeous "You Don't Have to Say You Love Me" from her "Just a Little Lovin' " Dusty Springfield tribute album.
"We haven't been on the road in a year," she explained good-naturedly.
Opening act was English singer Findlay Brown, who sang spare, heartfelt ballads tinged with humor.
"If you could eat in time with the music, please," he quipped as the audience finished its appetizers and entrees.
Among the songs were "Separated by the Sea," "Love Will Find You" and "Teardrops Lost in the Rain."
Brown described his U.S. trek as "a musical pilgrimage" to the land of his rock 'n' roll heroes. With his English accent, rockabilly clothes and haunting balladry, he recalled the two Elvises — Presley and Costello.
To read my recent interview with Lynne, follow this link. And here's a link to Lynne's Web site.
Did you attend the concert? What did you think? You can comment below.