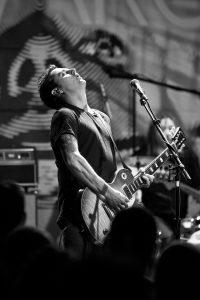 Flight to Mars' performance last Friday (April 23) at Showbox at the Market was a raucous night of rock 'n' roll for a good cause.
The eighth annual benefit concert for the Crohn's and Colitis Foundation of America's Camp Oasis and Advocacy for Patients included sets by Flight to Mars, the Seattle-based UFO tribute band led by Pearl Jam guitarist Mike McCready, and fellow Seattle group Sweet Water.
Flight to Mars, founded in 2003, performed a blistering set featuring such UFO classics as "Doctor, Doctor," "Lights Out," "Too Hot to Handle," "Mother Mary" and "Natural Thing," with McCready's deft guitar work stealing the show.
The Pearl Jam axe man was ably assisted by core members Gary Westlake (bass) and Paul Passereli (lead vocals), as well as Tim DiJulio (guitar) and Kelly Van Camp (drums).
Passereli was the perfect frontman for the show, keeping the revved-up crowd in thrall as the group whipped through a solid set of classic arena-rock songs.
McCready and his bandmates are clearly big fans of UFO, the English metal band (founded in 1969) that became an important player in the evolution of hard rock and heavy metal.
In 2002, McCready went public about his own 20-year battle with Crohn's Disease and ulcerative colitis and has become a tireless supporter of CCFA, raising awareness of the diseases through his annual FTM shows and other events.
Flight to Mars closed its set with "Rock Bottom," from the classic album "Phenomenon," before circling back for a meaty encore.
For more information about the Crohn's and Colitis Foundation of America, follow this link.
By the way, actor Gregory Itzin, who portrays the conniving President Charles Logan on the hit TV series "24," has recorded a number of public service announcements for the CCFA. Read about them here.
Itzin has an important role in the final hours of "24," which ends this spring after a long run. Read more here.