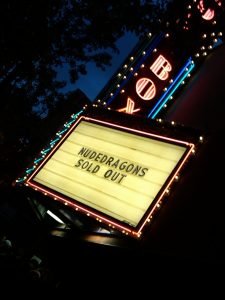 It was the hottest ticket in town Friday: a concert by a group calling itself "Nudedragons."
Nudedragons? It was actually a reunited Soundgarden with a phony name (actually an anagram of the band's name), performing for the first time in more than a decade for a pumped-up, full-capacity crowd of longtime fans at Showbox at the Market.
Putting "Soundgarden" on the marquee instead of "Nudedragons" might have caused more pandemonium than the Showbox could handle.
The show, a public rehearsal for the Seattle band's performance in August at Lollapalooza, sold out within 15 minutes of going on sale Friday (April 16).
Singer Chris Cornell, also a veteran of Audioslave, announced the band's reunion — something most fans never really expected — at the first of the year. Rumors of a Soundgarden performance at the SXSW music conference and festival last month in Austin, Texas, had attendees buzzing. But it never happened.
Those who scored Showbox tickets, myself among them, were indeed fortunate to experience a 90-minute concert by one of the leading bands of the grunge era, a raucous outfit led by Cornell and featuring Kim Thayil, bassist Ben Shepherd and drummer Matt Cameron (now Pearl Jam's drummer).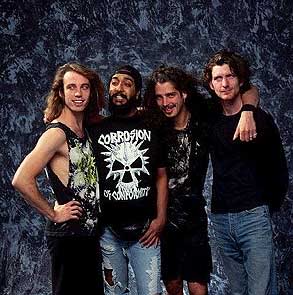 Among those in the crowd were Pearl Jam's Stone Gossard, Mudhoney's Mark Arm and Sub Pop Records co-founder Jonathan Poneman. Gossard was on the same stage Wednesday (April 14) with his Hank Williams tribute band, Hank Khoir, as part of an all-Seattle lineup that featured Brad, Satchel and Pigeonhed (read about it here).
Long before doors opened at the Showbox, ticketholders lined the sidewalk. And many without tickets milled around outside, hoping for a miracle or just a chance to be part of an historic event, at least peripherally.
Cameras were forbidden, and anyone who raised a cell-phone camera was told to put it away or have it confiscated. I managed to fire off one blurry shot of Cornell, but it's not clear enough to share with readers.
Soundgarden, er Nudedragons, looked and sounded terrific. It was as though no time had passed since the group's untimely breakup 13 years ago. Everyone looked lean and fit, and Cornell (in T-shirt and jeans) was fully in command of the group he disbanded in April 1997.
I have attended many Soundgarden shows over the years, and this show was as solid as any in the group's heyday, even if it was just a rehearsal.
Cornell said little during the serious, no-nonsense performance. But band members couldn't help grinning. Shepherd seemed almost gleeful, hopping around the stage and obviously thrilled to be back in front of an adoring audience.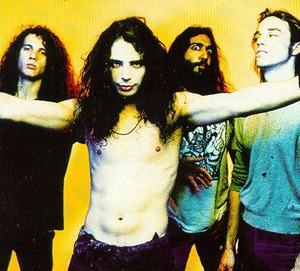 Soundgarden opened at about 10 p.m. with "Spoonman," then rocketed into "Gun," "Searching With My Good Eye Closed" and "Rusty Cage." This was no greatest-hits package, but an 18-song tour through the nooks and crannies of the band's dark, high-powered catalog. Missing from the show were such obvious hits as "Black Hole Sun" and "Jesus Christ Pose."
At the end of the show, the band saluted a famous band of the '60s with the show's only non-Soundgarden song.
Among the songs in the main set was "Hunted Down," the band's first single in 1987. The raucous song has been reissued by Sub Pop on seven-inch vinyl.
Thayil's thunderous riffs were a delight. He was one of the greatest guitarists of the Seattle rock scene, and sorely missed by fans.
The set was peppered with such songs as "Flower," "Ugly Truth," "Fell on Black Days" and "Loud Love." The show ended with "Outshined" and "Slaves and Bulldozers."
A three-song encore included "Get on the Snake," "Big Dumb Sex" and a fascinating cover of The Doors' "Waiting for the Sun."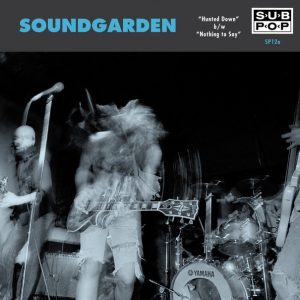 So, next stop: Lollapalooza. Unless there's another public rehearsal between now and then.
I have some great memories of Soundgarden's last Lollapalooza performance — in 1996 at The Gorge. Read about it here.
For updates on Soundgarden's activities, go to the band's Web site.
What did you think of the concert? You can comment below.
Here's the set list:
Spoonman
Gun
Searching With My Good Eye Closed
Rusty Cage
Beyond the Wheel
Flower
Ugly Truth
Fell on Black Days
Hunted Down
Nothing to Say
Loud Love
Blow Up The Outside World
Pretty Noose
Outshined
Slaves and Bulldozers
Encore:
Get On The Snake
Big Dumb Sex
Waiting for the Sun (The Doors)