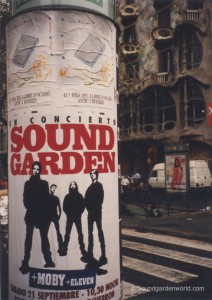 The rumored performance by Soundgarden, aka Nudedragons, is sold out. In fact, it went "clean" in about 15 minutes after going on sale this morning.
The concert takes place tonight (April 16) at Showbox at the Market. You can count on a lot of people lining up on the sidewalk outside the Showbox hoping for a miracle — or in possession of a ticket.
The show is a warmup for the reunited band's performance in August at the Lollapalooza Festival in Chicago.
Read my previous story on tonight's show here.
You can also follow Chris Cornell on Twitter.