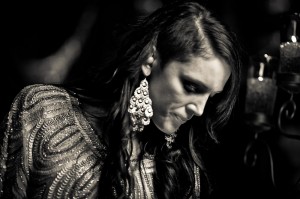 By GENE STOUT
If Victoria Wimer Contreras feels like flashing the "Victory" sign, she's certainly entitled to do so.
The Seattle singer and pianist known simply as "V" took the stage Sunday night, Nov. 13, at the Feedback Lounge with her new four-piece band, officially billed as V + the Noise, for a powerful set of songs from her upcoming album. It'll be her first full-length album in 10 years (her previous long-player was with Assai, a band she formed with her sister Tamara).
It was a special night for Contreras, as well as the Feedback Lounge.
Contreras has graced stages at a number of all-woman concerts, among them last summer's "Wine, Women and Song" at the Neptune Theater. But her show at the Feedback Lounge was the first in a series of intimate, sit-down VIP concerts – and Contreras raised the curtain with style and class.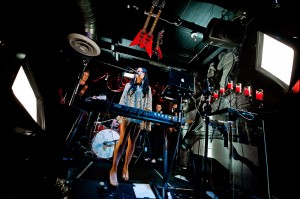 The Feedback looked less like a rock 'n' roll bar and more like a cabaret. Gold curtains framed the stage and entrance for the festive show, which featured a slightly elevated stage, tiny white holiday lights, and a large candle holder resembling an upside-down "V." Equally striking was Contreras herself, dressed in an embroidered gown and precipitous earrings.
Contreras brought passion and drama to a number of songs, among them "Hollow," "Love and Noise" and "Masquerade," showing off the awesome pipes that set her apart from many of her peers.
Contreras studied with various operatic and classical vocal coaches, notably Maestro David Kyle, who coached such Northwest singers as Geoff Tate of Queensryche, Ann Wilson of Heart, Chris Cornell of Soundgardena and the late Layne Staley of Alice in Chains.
Contreras' show launched a Kickstarter campaign for her new album. Videographer Jamie Chamberlin, who has worked with ZZ Top and Duff McKagan, filmed the performance. Learn more about Kickstarter here.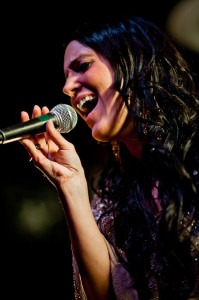 To hear some of Contreras' music, visit her MySpace page. And check out the new website for V + the Noise here.
Follow this link to photographer Jason Tang's website.
Opening for Contreras was Seattle singer-songwriter Alessandra Rose.
For more events at the Feedback Lounge, follow this link. (Watch for some big names in the new VIP concert series.)