By GENE STOUT
We've got a winner in the "Pop Up Live" competition you read about last week: Seattle's Ramona the Band, featuring singer Dion Vox, has won the fan-driven contest sponsored by PopChips, Spin and Reverbnation.
The competition allows emerging bands to get national exposure. In that sense, Ramona the Band has just made a quantum leap.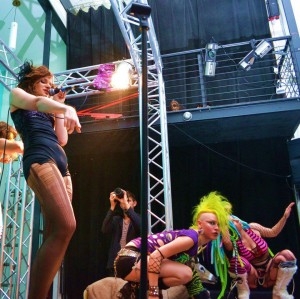 After beating out more than 1,500 bands, as well as nearly a half-dozen finalists from major cities around the country, Ramona the Band will play the Spin event at the SXSW music, film and interactive conference in March in Austin, Texas.
Other finalists included the Bruises from San Francisco, Starving for Gravity from Los Angeles, Counterpunch from Chicago and Christine Hoberg of New York City.
"Ramona the Band's original song ("Caught Up") and concept for their Pop Up concert stood out among all the judges," Spin senior editor David Marchese said in a statement.
"We're looking forward to having them join us in Austin and excited to give their trip-hop sound the exposure it deserves."
Ramona the Band is described as an "underground pop, down-tempo, ghetto-tech indie band."
Read an earlier story about the band at GeneStout.com. And follow this link to Spin's official story on the group and a link to a live video.
And visit the band's website here.