Amid a blitzkrieg of sound, lights, fog and pyrotechnics, X Japan, the biggest rock band in the Land of the Rising Sun, made its Seattle debut Friday (Oct. 1) at the Paramount Theatre.
The five-member, all-male band is enormously popular in its native country, selling more than 30 million albums over three decades and regularly playing stadiums.
The group is currently fulfilling a longtime dream to tour the United States with a short trek that began in September.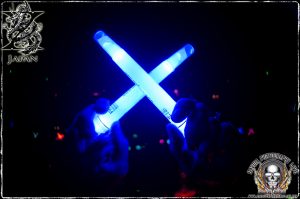 Realizing that many U.S. rock fans had never hear of them, the members of X Japan decided to play smaller venues — smaller than arenas and stadiums — to test reaction to the group's flamboyant, big-haired pop metal, a style of rock that faded away with grunge but is experiencing a bit of a revival.
Are U.S. audiences ready for a Japanese group that sounds like an arena-rock band of the 1980s? Response to X Japan's debut U.S. album, due next year, may provide the answer.
Led by pianist and drummer Yoshiki Hayashi (who simply goes by Yoshiki), X Japan blitzed concertgoers (some of whom held "Hello Kitty" dolls) with such songs as "Jade" (a new single), "Silent Jealousy," "Born to Be Free" and "Endless Rain." As if to remind newfound fans who they were watching, the band frequently shouted, "We are X!"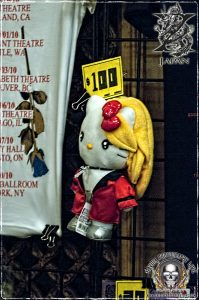 I can't say that I loved the endless drum solos and hair-metal cliches, but this band certainly earned an "A" for showmanship.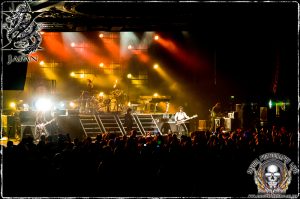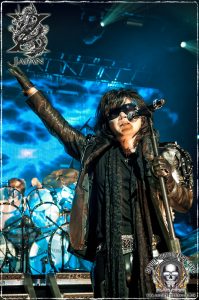 Toshi (Toshimitsu Deyama) is a remarkable singer with a soaring voice that commanded attention. But much of the attention went to bare-chested Yoshiko, whose thunderous drum solos and overwrought emotions often made him the focus of the flamboyant show.
Filling out the remainder of the band were bassist Heath (Hiroshi Morie) and guitarists Pata (Tomoaki Ishizuka) and Sugizo (Yasuhiro Sugihara), whose roles are less pronounced.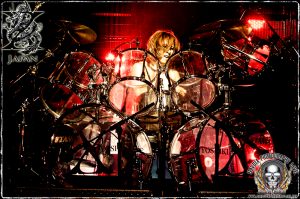 The most enthusiastic fans (who often jabbed the air with their fists or crossed their arms above their heads to form an "X") were clustered near the stage, while a few rows at the back of the main floor were mostly empty. Nevertheless, it was an impressive turnout for a band barely known in the U.S.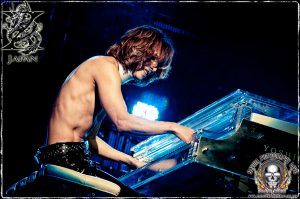 X Japan, originally formed in 1982, reunited in 2007 after a 10-year hiatus, re-emerging as one of Asia's biggest rock bands. The group made its U.S. debut at Lollapalooza in August.
At the Paramount, the band was energized by the crowd's enthusiasm. "We're so happy to be here," Yoshiki said. "We've been waiting for this moment for a f**king long time!"
To visit the band's U.S. Web site, follow this link.
Read a recent interview with Yoshiki at GeneStout.com.
The photos in this post were taken by Seattle photographer "Iron" Mike Savoia. Visit his Web site here.
By the way, the $100 Hello Kitty dolls sold at the show were named for Yoshiki. Read more about the doll here.