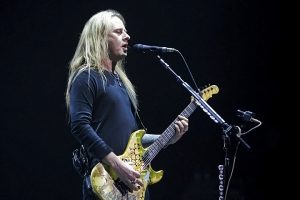 Multi-platinum rock band Alice in Chains has announced that this Friday's, Oct. 9, hometown show at Seattle's Key Arena will be filmed in 3D for an upcoming DVD by HDlogix, a media and entertainment company specializing in 3D.
The band is currently headlining BlackDiamondSkye, a triple bill including Deftones and Mastodon. Alice in Chain's show features classic songs and new hits, including the Grammy-nominated lead single "Check My Brain" and follow-up single, "Your Decision," both of which reached No. 1 on the Billboard Rock Songs chart.
New single "Lesson Learned" is the third consecutive top five single to be released from the gold-certified current album, "Black Gives Way To Blue." "Lesson Learned" is also the 13th top 10 hit of the band's career.
Alice In Chains — guitarist/vocalist Jerry Cantrell, guitarist/vocalist William DuVall, drummer Sean Kinney and bassist Mike Inez — have spent the past year performing sold-out headlining tours around the world in support of "Black Gives Way To Blue," which entered Billboard's Top 200 at No. 5.
"Black Gives Way to Blue" was voted "Rock Album of the Year" in a Guitar World readers poll; readers of Revolver magazine awarded the group "Album of the Year" honors at the recent Revolver Golden Gods Award show.
HDlogix has developed a hybrid technology for 3D production with implications for the growth of 3D television and film. Read more about the company here.
For tickets to the Seattle show, click here.
Read a review of the band's previous tour by following this link.
For the remaining dates for the Alice in Chains tour, visit the band's Web site.