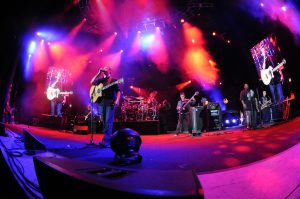 Over Labor Day weekend, the Dave Matthews Band extended its house attendance record at The Gorge Amphitheatre with headlining shows No. 34, 35 and 36 (Sept. 3, 4 and 5) at the central Washington State amphitheater operated by Live Nation.
Shortly after opening the gates on Sunday, the 700,000th ticket-buying fan, Reece Honour of Alberta, Canada, passed through the turnstile and was awarded a commemorative plaque and upgraded seating for everyone in his group, from general admission on the hillside to the pit at the front of the stage.
Since its first headlining show at The Gorge on July 11, 1997, the Dave Matthews Band has played the amphitheater 13 consecutive summers, typically with a three-show run over Labor Day weekend.
At the end of the weekend, the band's house record came to a whopping total of 719,010 ticket buyers since 1997.
In the photo below, Honour is shown with his friends, along with Live Nation Northwest president Jeff Trisler (left) and Danny Wilde, SVP of amphitheater operations and general manager of The Gorge Amphitheatre (far right).