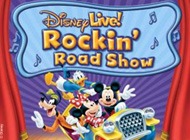 Mickey Mouse is now a rock star?
Apparently there's nothing Mickey Mouse about it.
The famous cartoon character takes the stage in the "Disney Live! Rockin' Road Show" appearing at 12:30 and 3:30 p.m. Saturday, Jan. 30, at ShoWare Center in Kent; and at the same times Sunday, Jan. 31, at Comcast Arena in Everett.
Mr. Mouse and all his cartoon pals — Minnie, Goofy, Donald, Cinderella and Tigger, as well as Buzz and Woody from "Toy Story" — are featured in the family entertainment extravaganza combining song, dance and comedy.
The high-energy, state-of-the-art production features elaborate props, video and choreography.
It's hard to believe that Disneyland is 55 years old and Mickey Mouse is old enough to remember the Great Depression. Walt Disney created the cartoon icon in 1928. Mickey first appeared in the cartoon "Steamboat Willie." And though it wasn't the first carton to feature a soundtrack, it was among the first to synchronize the music to the characters using a click track. Imagine how cool that must have been back in 1928.
View cartoons and videos of Mickey here. And check out this interesting Web site for Disney bloggers.
The latest news from Disney is that the studio's production chief, Oren Aviv, has been fired amid a "creative drought" and the poor performance of a number of Disney movies. Read a story by the Los Angeles Times here.
Tickets at ShoWare Center are $18, $25, $30 and $48, but if you enter the promo code BLOG in the "shopping basket" at checkout, you can get special pricing of $11 a ticket (plus a fee). Parking is free, and group discounts are available by contacting Chris Coyle at ccoyle@ShoWareCenter.com or at 253-856-6723. For general information, call 866-973-9613 or 253-856-6999.
At Comcast Arena, tickets are $19, $26, $31 and $49 at the box office (2000 Hewitt Ave.), by phone at 800-332-8499 and online at ComcastArenaEverett.com. For group sales, call 425-322-2609.