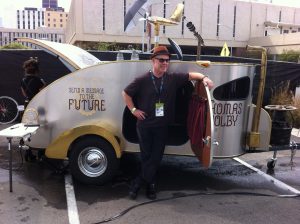 Synth-pop artist Thomas Dolby, who has long had a reputation as pop music's mad professor, will have something other than a band "in tow" for his current Time Capsule tour, which opened March 16 at SXSW in Austin, Texas, and features a show April 11 at Seattle's Showbox at the Market.
He'll be pulling a trailer dubbed the Time Capsule. It's a chrome- and brass-plated trailer with handcrafted wood and leather and elaborate wiring that could have been inspired by scientist Nikola Tesla or the time-traveling science fiction of Jules Verne or H.G. Wells.
The capsule will be parked outside venues at each tour stop. Concertgoers can step inside and upload a personal video message to "the future." The short videos will later be spliced together in an online video montage.
The tour follows the release of Dolby's "A Map of the Floating City" and the trans-media game he co-designed, "Floating City."
"If you had 30 seconds to explain to an alien visitor what went wrong with our civilization, what would you say?" Dolby explains. "Our species may not be around on this planet much longer, so you might as well leave a welcome message for the next guys!"
Dolby was born Thomas Morgan Robertson in London, England, and is the son of a former professor of Greek art and archeology at the University of London. Dolby's best-known song was the 1982 new wave hit, "She Blinded Me With Science."
Watch Dolby's message to Seattle on YouTube. Check out Dolby's blog here.