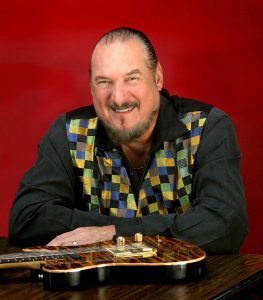 Steve Cropper, the man who co-founded Booker T. & the MGs and helped pen the classic "In the Midnight Hour" will be the recipient of a 2009 Founders Award from the Experience Music Project and Science Fiction Museum.
The third annual Founders Award Celebration is at 7 p.m. Thursday, Nov. 12, at the museum. Joining Cropper in a selection of his music will be Seattle musicians Skerik, Mike Musberger, Jeff Fielder, Andrew McKeag, Ty Bailie and Craig Flory.
Cropper, whose career began in the early '60s with soul group the Mar-Keys, is one of the top soul guitarists on the planet, with a devoted following among soul fans of several generations.
After the Mar-Keys and Booker T. & the MGs, Cropper was a player and arranger for Otis Redding "(Sittin' On) the Dock of the Bay," Sam & Dave, Eddie Floyd ("Knock On Wood") and Wilson Pickett ("In the Midnight Hour"), as well as a a prolific songwriter.
In the '70s, Cropper produced recordings for Jeff Beck and Mitch Ryder, as well as others. With his help, the classic Stax came back into vogue with John Belushi, Dan Aykroyd and the Blues Brothers.
Cropper's current album is Cropper is "Nudge It Up a Notch'" with former Young Rascals singer Felix Cavaliere.
The musical pioneer received the Grammy Lifetime Achievement Award in 2007 (with Booker T. & the MGs) and was inducted into the Rock and Roll Hall of Fame and Songwriters Hall of Fame.
Previous Founders Awards went to Ann and Nancy Wilson of Heart (2007) and Robbie Robertson (2008). (Ann Wilson is featured in the current production at Teatro ZinZanni.)
Proceeds from the Founders Award Celebration will benefit EMP/SFM's youth education programs. Tickets are $325, and a limited number are available. Contact Maria Kolby-Wolfe at 206-262-3241 or mariakw@empsfm.org.
Here's a video of Cropper performing with the Alabama Blues Brothers:
And here's a video of Booker T. & the MGs performing "Green Onions" on TV's "Shindig" in 1966: