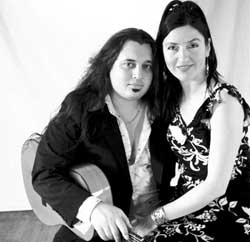 Tonight's performance at the Kirkland Performance Center is billed as "the real deal" by presenters Flamenco Seattle and Mezzo Producciones.
"Flamenco de Raiz" features Rafael de Utrera and Eric Jaeger and Encarnacion of Seattle world music group Children of the Revolution.
Rafael and Juanma are top level flamencos from Sevilla (Seville), Spain. Rafael is among the most respected and in-demand flamenco singers in the world today. Paco de Lucia, Vicente Amigo, Gerardo Nunez, Joaquín Cortés, Sara Baras, Eva la Yerbabuena, Juana Amaya, Farruquito, Manuela Carrasco and Israel Galván are among the prestigious flamenco artists with whom he has worked.
The show is a "flamenco puro" performance featuring cante jondo (meaning "deep song"), dance routines and original flamenco compositions.
"I went to Interlake High School in Bellevue," Jaeger said. "I grew up playing metal and rock music. I went to L.A. to fulfill my dreams as a rock musician, only to watch the Seattle scene blow up on TV and on the radio.
"I was even friends with Layne Staley from Alice in Chains and turned down an opportunity to have him as a singer in my band before they took off. Talk about a bad move. But a twist of fate introduced me to Benito Palacios, my first flamenco teacher while living in L.A.. He was an amazing, successful, authentic player from Spain who never worked a day in his life; he just played his guitar. I was sold.
"Flamenco infected my blood and soul. I returned to Seattle, where I met my wife Encarnación. who was visiting. She was born in Barcelona to a family of exiles from the Spanish Civil war and lived in Barcelona and Mexico City most of her life. She had already been performing professionally for years in Mexico. We met and never stopped playing together."
Jaeger regards the flamenco community in Seattle and the Eastside as the the lifeblood of their career, allowing Children of the Revolution to soar, selling out such venues as Meany Hall, the Paramount Theatre and Benaroya Hall.
"Being that we are a world music group that combines flamenco, salsa, rock with Middle Eastern and Greek influences, it didn't exactly break through the mainstream," Jaeger said. "To date we've released 7 CDs and have been together over 10 years."
Flamenco Seattle, their production company and flamenco school, is now bringing top flamenco artists directly from Spain to work with them.
Performances are scheduled at 7 and 9:30 p.m. Nov. 7. Tickets: $30.
Here's a video of Jaeger: